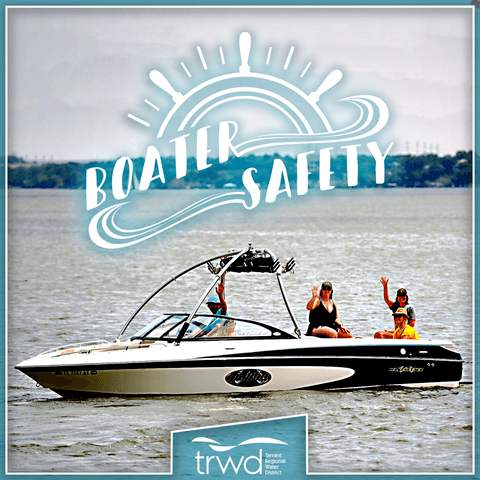 Boating is about more than just hitting the cool, summer waves on a hot afternoon; it's also getting back to the shore in one piece! Being mindful of safe boating practices enables you to do it as often as you'd like and creates a welcoming environment for all North Texas boaters to enjoy. Here are just a few of TRWD's most helpful tips to ensure a good time out on the water.
Do…         
Inspect your boat before every trip – Don't get stranded. A few minutes is all it takes to ensure that your boat has properly functioning parts before putting it in the water. Your ability to address any surprise issues will double if you educate at least one other person about the ins and outs of your boat.
Take emergency life jackets – More than 90% of drowning victims fail to wear any sort of floating device. Providing a life jacket for everyone onboard greatly increases their chances to survive in case of an emergency.
Maintain your distance from other boats – Staying at least 100 feet away from a fellow boater will help you both avoid an unnecessary collision. Like walking, always steer to your right side when approaching a boat coming in your general direction.
Don't…    
Operate in dangerous weather or environmental conditions – Be sure to keep an eye on local weather reports to anticipate incoming weather changes and natural hazards that may put you and your vessel in harm's way.
Mix boating and alcohol – You wouldn't drive your car under the influence of alcohol so the same principle should apply to your boat. Your ability to be alert and aware of your surroundings will be compromised if you drink and could land you a major fine.
Forget that boater safety starts with you – At TRWD, we encourage boating enthusiasts to take the initiative when it comes to boating safety because the well-being of the people we serve is our number one priority. We may provide law enforcement services and maintenance of our local waterways, but the best safeguard against danger will always be a well-prepared community.
Boating on TRWD-owned lakes this summer? Check out Eagle Mountain Lake, Richland-Chambers, Lake Bridgeport, and Cedar Creek Lake. TRWD also manages one no-wake lake – Marine Creek.