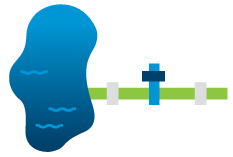 Deliver a reliable, resilient supply of water to the public at the lowest cost and highest quality possible.
We provide raw water to more than 30 wholesale customers in 11 North Texas counties.
With more than two million people in the district's rapidly growing service area, our mission is to ensure residents and businesses have a safe, reliable water supply that meets their needs today and for decades to come. Our primary wholesale customers include the cities of Arlington, Fort Worth and Mansfield and the Trinity River Authority.
TRWD is one of the largest water suppliers in Texas, providing water to more people than the entire population of New Mexico.
TRWD uses a system of lakes and pipelines to provide water to more than 30 wholesale customers here in North Texas. The district owns four lakes – Bridgeport, Cedar Creek, Eagle Mountain and Richland-Chambers – and has built more than 250 miles of pipelines that move raw water from our lakes east of Dallas back to Tarrant County. We also store water in Lakes Arlington, Benbrook and Worth for future use.
IPL Increases Reliability
The most recent addition to our supply system is the Integrated Pipeline Project (IPL), a 150-mile pipeline being built jointly with the City of Dallas. This award-winning project allows the district to move additional water from Cedar Creek and Richland-Chambers lakes in East Texas to meet the needs of a rapidly growing Tarrant County. It will also make our system more resilient in times of drought and when maintenance is needed on our system.
Learn More
Learn More
Conservation
Despite the rapid growth in North Texas, TRWD's water demands have not grown at the same pace over the last several years. That's because our proactive water conservation efforts and initiatives are helping save an average of 100 million gallons per day. Educational outreach efforts with our customers and regional partners are also helping change behaviors and create a sustainable future in North Texas.
Learn more about ways you can save water at home or the office and check out our 2019 Water Conservation and Drought Contingency Plan.
Save Tarrant WaterSave Tarrant Water    Water Is AwesomeWater Is Awesome
Conservation PlanConservation Plan
George W. Shannon Wetlands: Innovative Water Reuse
TRWD's George W. Shannon Wetlands Water Reuse Project is another way the district is extending its current resources to meet a rapidly growing population. A joint effort with the Texas Parks and Wildlife Department, this 2,200-acre facility near Richland-Chambers Lake was completed in 2013, and consists of a series of sedimentation ponds and wetland cells that naturally filter water diverted from the Trinity River. In 2018, the project was recognized as a Conservation Wrangler Program.
TRWD is already working on another wetlands facility at nearby Cedar Creek Lake, which will provide an additional 28 billion gallons to the district's supply when needed. Once both are fully operational, together they will provide TRWD with enough water supply to serve an additional one million people.
Texan By NatureTexan By Nature    Wetlands Fact SheetWetlands Fact Sheet
Explore the Wetlands
Educators and professional groups are encouraged to schedule a group tour for any/all grade levels. TRWD and TPWD staff collaborate to provide a thorough tour covering water quality, wetland ecology, and wildlife diversity. For school tours, call TRWD at 903-389-3928.
Texas Parks & Wildlife Department land use rules apply. All visitors, unless on a group tour or under age 17, must have a Limited Public Use Permit or an Annual Public Hunting permit, which can be obtained through the TPWD website.
For information about hunting, fishing and birdwatching, visit the link below.
Texas Parks and Wildlife
Texas Parks and Wildlife
Future Water Supply Planning
TRWD has a 50-year water supply plan that takes a long-range approach to meet water supply needs in our rapidly growing service area. This plan has been in place for decades and is updated regularly. In 2013, the District also completed its Integrated Water Supply Plan, a comprehensive look at all of our future supply strategies identified at that time. That effort resulted in TRWD being able to provide valuable information to the Texas State Water Plan, which we help author as part of a local water supply planning region efforts.
Learn more about the innovative, forward-thinking methods we are using to meet the needs of a population that is expected to double in the next 50 years: