Supporting TRWD and protecting the public.
The primary mission of the Law Enforcement Division is to protect the employees, infrastructure, and resources of the District and to support and promote safe recreational activities. The Law Enforcement Division is comprised of three areas of operation: Patrol, Security Operations, and Emergency Management.
Patrol
Our patrol is responsible for patrolling properties and protecting employees, assets, and resources. These responsibilities include:
Underwater Investigations (Boat Accidents, Evidence Recovery)
Dive Recovery Operations (Victim, Vehicle)
Criminal Investigations (Theft, Vandalism, Trespassing, Poaching, Accident)
Bike Patrol (Public Safety and Event Security)
Water Patrol (Boating and Water Safety)
Search and Rescue (Stranded boaters, Injured Hikers)
Personnel Protection (Event Security, Workplace Safety)
Environmental Enforcement (Hazmat Spills, Septic Violations, Dumping)
Public Education (Boater Safety, Active Attacker)
Agency Training (Lethal /Non-Lethal Force, Policy, Dive, Watercraft Operation)
Agency Coordination
Emergency Management / Security Operations
The emergency management and security operations team is responsible for the coordinated and organized implementation of the Districts multiple Emergency Response Plans and maintaining a security posture that prevents, detects, analyses and prompts responses to incidents.
Ensuring Safety
Emergency and Security Operations includes:
Security Monitoring (Video, Intrusion Detection)
Access Control (ID's and Badges, Contractor and Delivery Access)
Employee and Visitor Vetting (Background Investigations)
Telecommunications (Police and Utility Dispatch)
Emergency Response Coordination (Incident Management, Communication and Training)
Communication Center (Communication hub for all Law Enforcement, Security and Emergency Communications)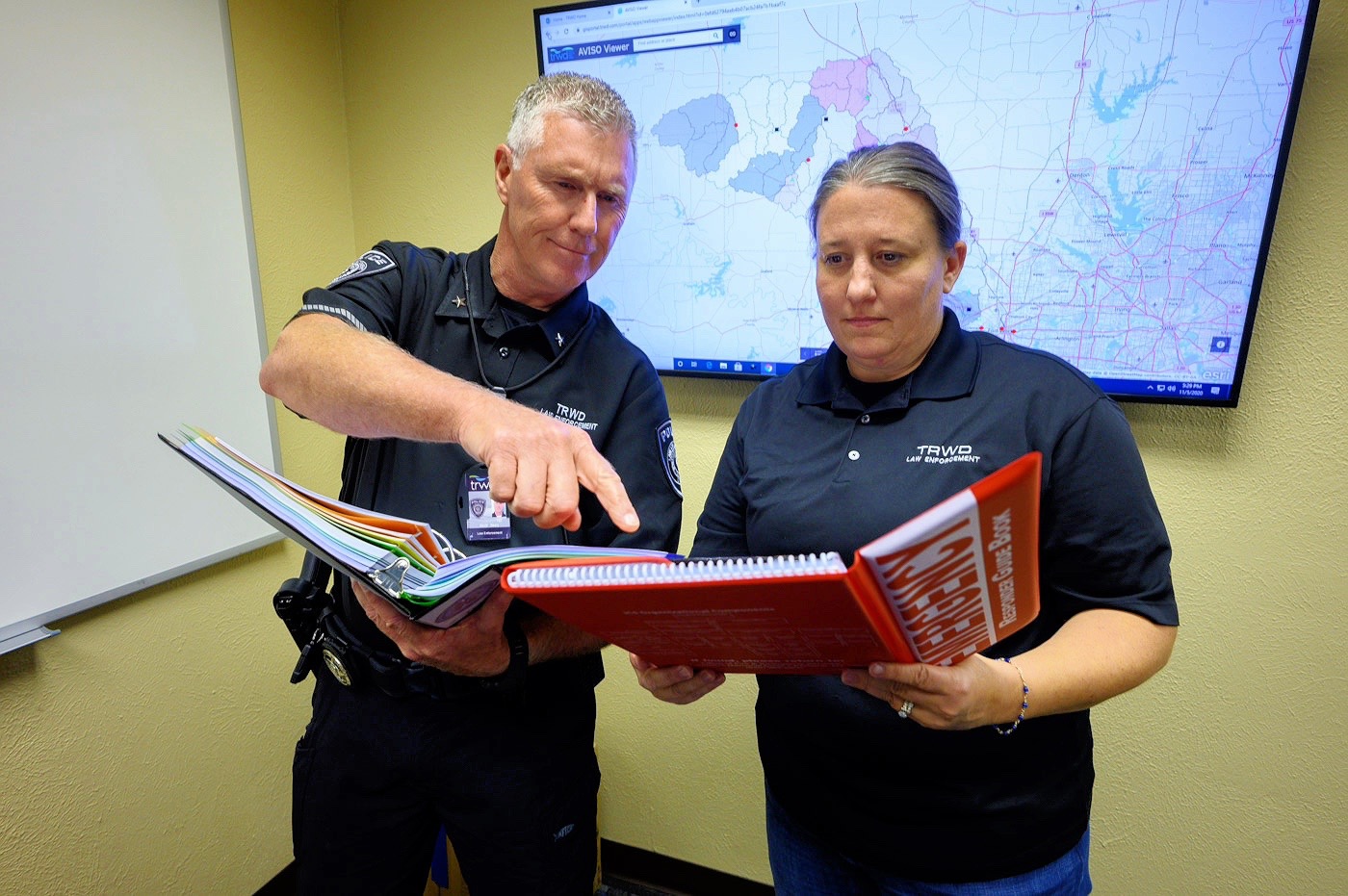 How do I report an incident?
If it's an emergency dial 911. If it's not an emergency you can reach the TRWD Communications Center at 817-720-4584 or on the TRWD Contact form.
How do I pay a citation?
Citations are typically filed in the Justice of the Peace Precinct of the alleged violation and noted on the citation.
How do I get my boat inspected for onboard toilet facilities?
Clean Water Inspections can be scheduled by contacting Cody Biggs at 817-237-8585, extension 4705.
How do I request a report?
You can request a report on our Open Records Request form.