TRWD continues to monitor reservoir conditions 24 hours a day.  Currently, the Bridgeport, Eagle Mountain, and Richland-Chambers spillways are making discharges – see table below.  Updates to flood discharges will be posted here.
Lake Closure Status
Lake Bridgeport is currently closed.  It is possible that the lake will be reopened in the next two days.  Updates will continue to be posted here.
All other TRWD lakes (including Marine Creek), trail systems and parks remain open to the public and available for normal recreational activities. However, visitors are subject to all rules, regulations and guidance issued for each specific location either federal, state or local during this period of National Emergency.  Please click here to see an important notice about new Eagle Mountain Park hours. 
The City of Fort Worth has closed Lake Worth.  The official announcement can be found on their homepage. Lake Worth is owned and operated by the City of Fort Worth.
The National Weather Service (NWS) is calling for sunny and dry conditions for the weekend, see Graphic-1 below.  Please continue to follow the NWS and the River Forecast Center (RFC) for the latest information regarding the weather and river conditions, respectively.
Lake Projections
Lake Bridgeport is currently receding.
Eagle Mountain Lake is expected to remain near 650 ft-msl.
Lake Worth is expected to remain near 596 ft-msl.
Inflow to Eagle Mountain lake has been a fairly steady 7,000 cfs the past 3 days and will continue for another day or two as water from the upper parts of the Eagle Mountain watershed and discharges from Lake Bridgeport continue to travel down the river. The good news is that the Bridgeport discharge was reduced Wednesday and Thursday. This will result in lower inflows to Eagle Mountain and the opportunity to reduce Eagle Mountain discharge, which will allow the Lake Worth elevation to start decreasing, possibly as early as Sunday.
Please be advised that forecasts and projections are subject to change, and TRWD reservoir operations are based on observed rainfall conditions.  The next Reservoir Monitoring Update will be posted tomorrow morning.
Graphic-1. NWS Guidance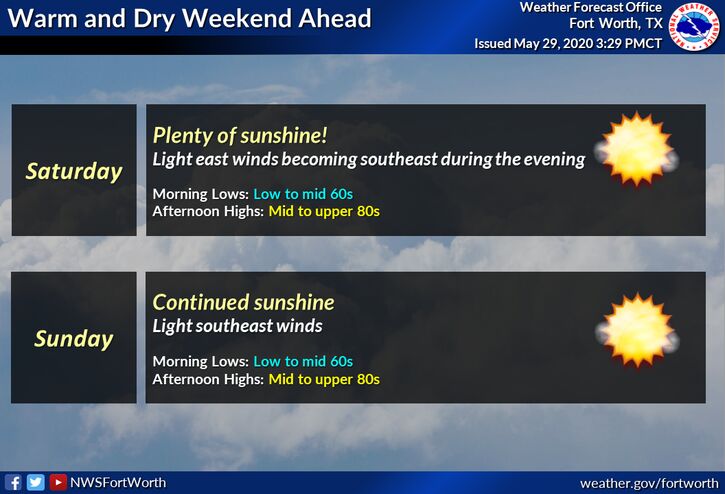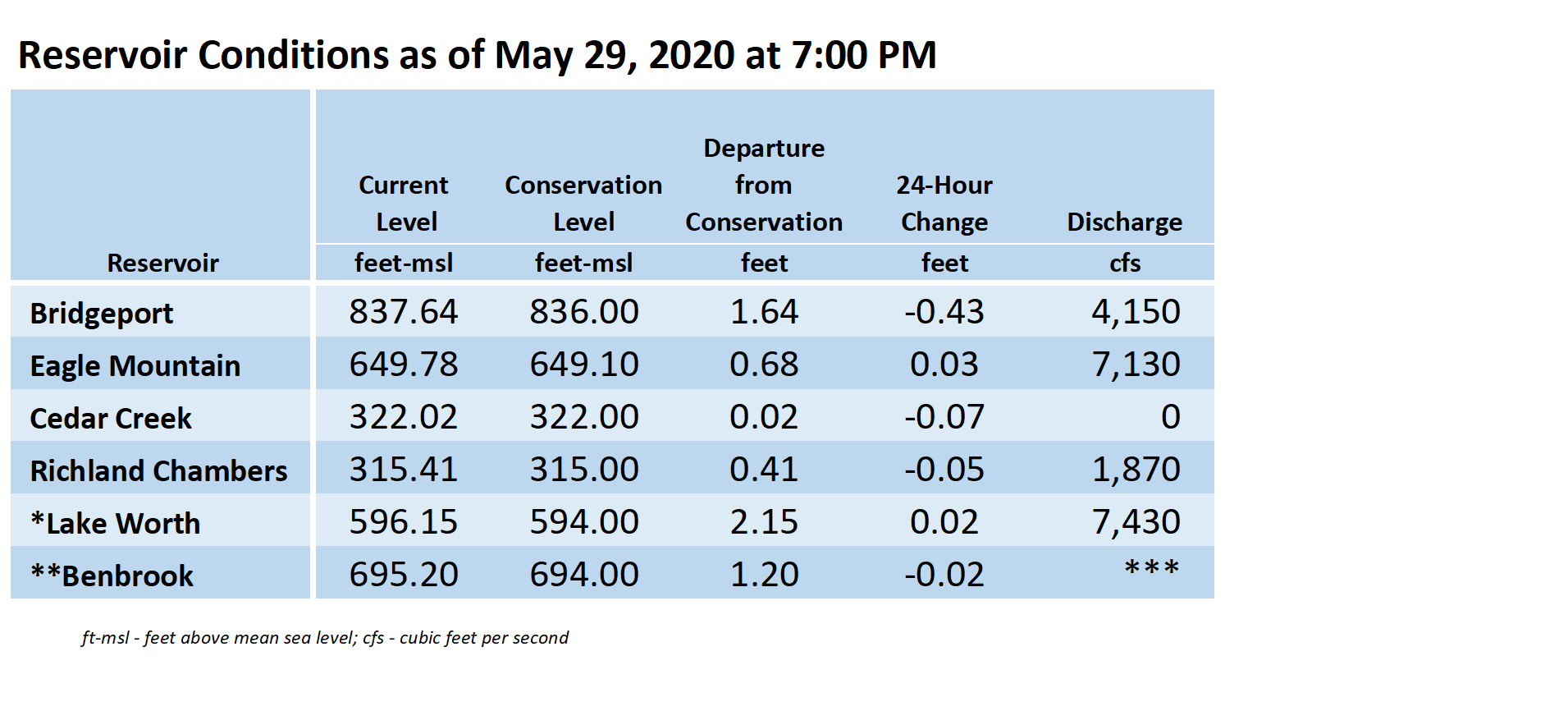 **Benbrook Lake is owned and operated by the U.S. Army Corps of Engineers.  ***See Benbrook Lake Home Page for current discharge.*Lake Worth is owned and operated by the City of Fort Worth.  See the City of Fort Worth news feed for updates on Lake Worth.
Please call the Flood Hotline for further information.
817-720-4296
If prompted to leave a message, the flood monitor on duty will return your call within 30 minutes.
Posted by JZH.