Rudy Martinez had a problem.
After moving into his home 12 years ago, he noticed there was always a big wet spot in his backyard. The city tested the water, and there was no chlorine. His sprinkler guy came out, but he couldn't find any leaks.
Come to find out, Martinez had a natural spring in his backyard. So he put in a sump pump, a French drain and released the water into the gutter and eventually into a nearby creek. But was that the best use of that resource?
No. Martinez found out, when he toured the Rainscapes project at Tarrant Regional Water District, that he could be pumping that water into a cistern and reusing it, and keeping any possible chemical-laden runoff out of the system.
"Why waste all that good water running down the road? To me, it was an 'ah hah' moment," Martinez said.
It's that kind of "ah ha" moment – taught by the Rainscapes project – that earned TRWD top honors for land stewardship from the Texas Chapter of the Wildlife Society. The award typically goes to large, rural landowners; TRWD won by applying best management practices in an urban setting.
Rainscapes, built on its Fort Worth campus, is an example of how commercial and residential landowners alike can efficiently, economically and ecologically protect water quality in the Trinity River basin by using landscaping methods to manage stormwater and other types of runoffs.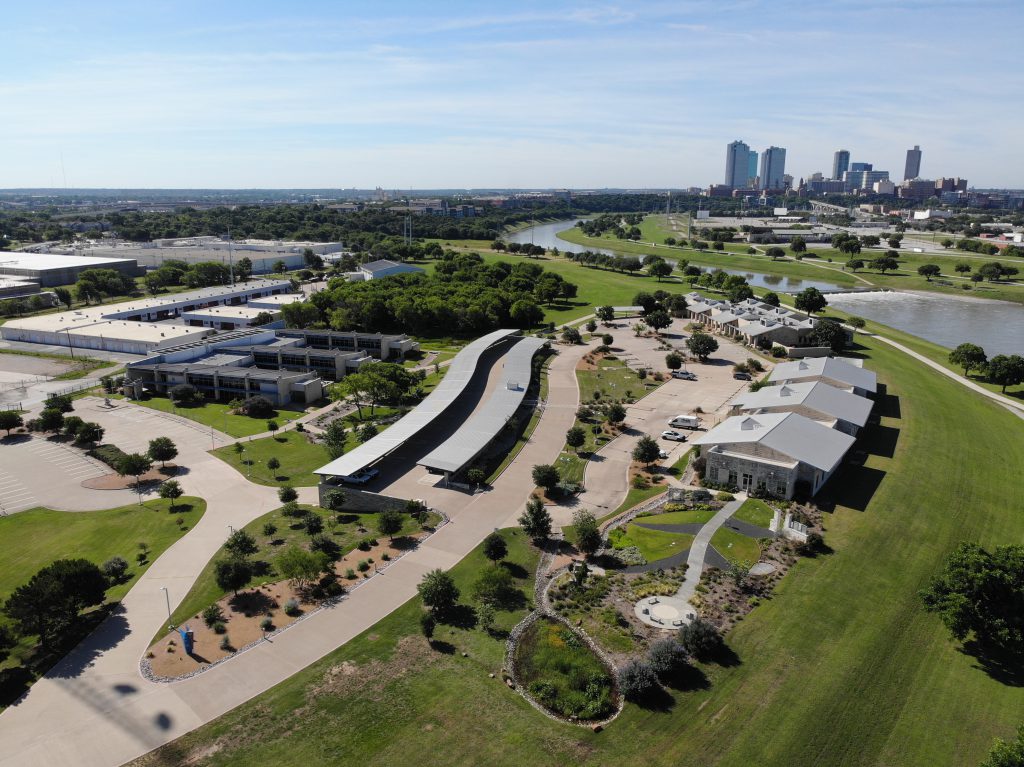 The lessons taught by the Rainscapes project become critical as North Texas' population grows and more and more of the area's wide-open spaces are developed and paved over with surfaces that do not allow for filtration.
"The purpose is to be a good neighbor and have a stewardship component to what we do," said Michelle Wood-Ramirez, urban programs coordinator on TRWD's watershed team. "It's the ethical thing to do. The ecological thing to do. Then the educational component is to bring other people alongside us to amplify our efforts and to continue to have a healthy Trinity River basin."
Started in 2015, Rainscapes uses green stormwater infrastructures like bioswales, permeable surfaces, rock channels and native and adaptive plants to control and treat stormwater runoff.
Each raindrop gets special treatment. Some are collected in a rain garden before seeping into the soil. The runoff that flows from the rooftops goes into cisterns where it's used to water the campus' landscaping.
Then there's the 41,500-square-foot wetland that was built where an old detention basin used to be. Stormwater is filtered through carefully selected vegetation before it is released into the Trinity River. What was once an eyesore in the middle of the city is a haven for frogs, foxes and waterfowl.
TRWD offers tours of its campus to show developers and homeowners how to use these landscaping techniques on their own property, not only enhancing the beauty but often increasing the property value.
TRWD also has available its Water Quality Guidance Manual, which it applies to the 443 acres it controls along the Trinity River channel and the associated floodway – a cookbook of ways to improve stormwater quality.
"Our goal with the entire campus is to minimize the pollutants reaching the river," said Aaron Hoff, watershed program manager for TRWD. "The goal is to show that there is a societal value to this."
Martinez, who lives in Crawford Farms, toured the campus with his neighbors. He left brimming with new ideas and enthusiasm.
"I thought about it. It just makes sense," Martinez said. "Why shouldn't we do that? Right now, all that water just ends up going down the drain."