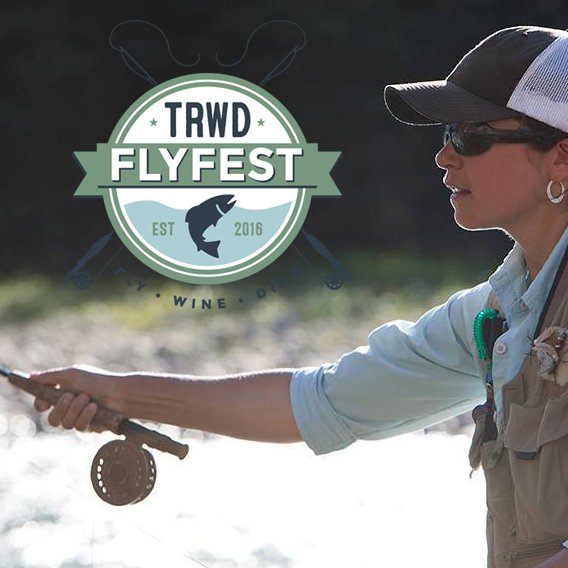 [two_third last="no" spacing="yes" center_content="no" hide_on_mobile="no" background_color="" background_image="" background_repeat="no-repeat" background_position="left top" hover_type="none" link="" border_position="all" border_size="0px" border_color="" border_style="" padding="" margin_top="" margin_bottom="" animation_type="" animation_direction="" animation_speed="0.1″ animation_offset="" class="" id=""][fusion_text][layerslider id="2″][/fusion_text][separator style_type="none" top_margin="15px" bottom_margin="" sep_color="" border_size="" icon="" icon_circle="" icon_circle_color="" width="" alignment="center" class="" id=""][fusion_text]We tied one on at TRWD Flyfest and soaked up every minute of it. From first-timers and the experienced to families and old fishing buddies; even master fly tiers and those in hibernation came out for what was a perfect day on the Trinity River.
Tarrant Regional Water District (TRWD) hosted its second annual fly fishing event on Saturday, March 11 at ACME Brick Headquarters near the River Park Trailhead in Fort Worth. Where the heck is that, you ask? The up and coming hot spot at the Clearfork on the Trinity River is just off Bryant Irvin Road.
Anglers lined up bright and early to sign up for the 'Big Trout' contest. The competition paired up folks to compete in one of five heats throughout the day. Eighty spots filled up faster than you could say, 'reel it in'! Also on-site were contests for casting accuracy and distance, which scored quite popular with participants and spectators alike.
Presentations from the best in the biz were given throughout the day, including 'Fly Fishing 101' and 'Fly Fishing the Texas Coast' by Backwoods' manager, Stephen Woodcock. Russell Husted, past president of the Texas Council of the International Federation of Fly Fishers (IFFF) and Fort Worth Fly Fishers shared his knowledge of fly fishing the Trinity River. Keynote speaker, Frank Smethurst, known throughout the fly fishing world for numerous hosting and appearances on fly fishing TV shows and widely-acclaimed films, captured the festival's audience with his talk on how to catch smarter in an urban setting. Superfly Smethurst and others were present all day at the festival and were easily accessible for Q&A on the fly.
Festival attendees were encouraged to bring their own fly rod or borrow a loaner as they watched first-hand, alongside the expert instructors. Every skill level, from beginner to intermediate were given opportunities to learn and practice the craft of fly casting. The women's casting classes proved to be quite popular with one class at capacity with 40 participants. One thing is for sure, these ladies were ready for some fly fishing action!
The rest of the fest included tons of free activities to keep the kiddos busy and most of all, grinning from ear to ear. From hooked to cooked, the folks at Whole Foods Market taught us how to properly fillet a fish and provided generous samples! The uber cool ZaTaR Food Truck served up yummy Mediterranean pizza and hipster taco-ish gyros – the holy kind. We always love tacos, any kind! Live music floated from the main stage and through the festival grounds completing the leisure vibe of the day. Most notably, Zack Nytomt, an Americana singer/songwriter from Argyle, reeled us in with his vocals . .. and that full head of wavy hair. You have a fan for life Zack, we love you almost as much as tacos.
We met lots of folks throughout the day on the banks of the river, including avid fisher Steve Pio, who came early and stayed late. Although Pio didn't score as good a catch as he would've liked, he thoroughly enjoyed the day-long fishing adventure with his teenage grandson by his side. Then there were those crazy boys, Donavan Clary and Steven Richards, from Oklahoma! Besides owning the biggest smiles this side of the Red River, this fly fishing duo vowed to be back next year and to actually bring home a trophy with bragging rights. Until then, they'll be working on their BIG FISH story on the drive back to Norman. Winning the 'awe' moment of the day was Madhavi and Guillaume of Dallas, whom we caught in this tender moment knee-deep and hand in hand in the waters of the Clearfork. Who needs Plenty of Fish to find your one and only when you have the Trinity? This is the Guillaumes' second trek to the fest, and first-time to compete in the Big Trout Contest.
Speaking of fishing contests; lots of trophies and prizes were awarded as the end of the day neared and the sky opened up for a good soaking. It's a good thing we still had our waders on!
TRWD Flyfest was made possible through generous support of their sponsors: Fort Worth Star-Telegram, Whole Foods Market, R4 Foundation, Acme Brick Company, Backwoods, Fort Worth Fly Fishers and Texas Council IFFF. Thank you for a successful second year – FISH ON!

FRESH FROM THE FESTIVAL:
Mark your calendar for next year's event, March 10, 2018.
Search the official event hashtag #TRWDflyfest on social media for more photos and stories from the festival. Be part of the stream and add yours too!
Tag yourself on our Facebook gallery, check out the photos here
Tarrant Regional Water District has been providing communities with reliable and sustainable water supply, vital flood protection and a variety of recreational opportunities for more than 90 years – including TRWD Flyfest on your Trinity River.[/fusion_text][/two_third]
[fusion_text]
Finding Fellow Fishers
[/fusion_text][vimeo id="208732925″ width="263″ height="148″ autoplay="no" api_params="&itle=0&byline=0&portrait=0″ class=""][/vimeo][fusion_code]PGJyPjxicj48aHI+PGJyPg0KPHN0eWxlPg0KLmVudHJ5LXRpdGxle2Rpc3BsYXk6bm9uZTt9DQouQmxvZ0NhbGxvdXQgcHsNCmZvbnQtc2l6ZToxNHB4OyANCmxpbmUtaGVpZ2h0OjEuNDsNCn0NCi5hbGlnbi1sZWZ0e2Zsb2F0OmxlZnR9DQouYWxpZ24tcmlnaHR7ZmxvYXQ6cmlnaHR9DQpoMzphZnRlciB7DQogIGNvbnRlbnQ6ICIiOw0KICBkaXNwbGF5OiB0YWJsZTsNCiAgY2xlYXI6IGJvdGg7DQp9DQo8L3N0eWxlPg==[/fusion_code][fusion_text]
TRWD FLYFEST

CONTEST RESULTS
---
DISTANCE & ACCURACY
Double winner, Cort Dehart scored honors in both casting contests for distance (77′ 4″) and accuracy (120 points). Dehart graciously donated both Temple Fork rod and reels to two youngsters from Prosper, who caught everything but a rainbow trout at the festival. Their excitement was priceless!
---
BIG TROUT HEAT RESULTS
Heat 1:
5 fish caught
Adam Tate and Mark Tate
Mark traveled all the way from Abilene to participate in the contest with his son Adam, who reeled in the first of eight Palomino (Golden Trout) caught throughout the day at TRWD Flyfest. He was also the Grand Prize winner of the festival's 2016 competition. Wally Watson caught the biggest fish in this heat at 21″.
Heat 2:
2 fish caught
Doug Laing and Tony Kutche
The last line in the water during this heat caught a fish, forcing a fish-off. Additionally, Doug hooked a Palomino and Tony caught the biggest fish at 15″.
Heat 3:
5 fish caught
Tyler Rowe and Richard Flaa
Richard caught the biggest fish in this heat at 18″ and Laura Allen reeled in a Palomino trout.
Heat 4:
4 fish caught
Lucas Laird and Andrew Tate
Most fish caught in this heat was decided by a fish-off, which coincided with the Grand Prize competition. It's all in the family, Andrew just so happens to the brother of Adam and son of Mark Tate. Clint Woorky caught a Palomino, as well as the biggest fish at 17″.
---
BIG TROUT CONTEST:


GRAND PRIZE WINNERS
A looming downpour opened up right about time a fight for the fin got underway. The Grand Prize fish-off just so happened to be at the exact same time as Heat 4's fish-off. Due to the threat of heavier rain, all teams were forced to have their contests at once. Imagine four lines and eight anglers in the water at the same time during the soggy finale, you could've cut the tension with a dull fillet knife. Team Tate hooked the first trout. Then just seconds later, the opposing team hooked theirs – the race was on! Unfortunately, the father/son fishers were not the first to net. The Rowe/Flaa Team was faster and closer to their catch, however Adam did hook his second Palomino for the day – an eighteen incher!
Most Fish Caught (6):Tyler Rowe and Richard Flaa
Biggest Fish Caught (21″):Wally Watson
[/fusion_text]