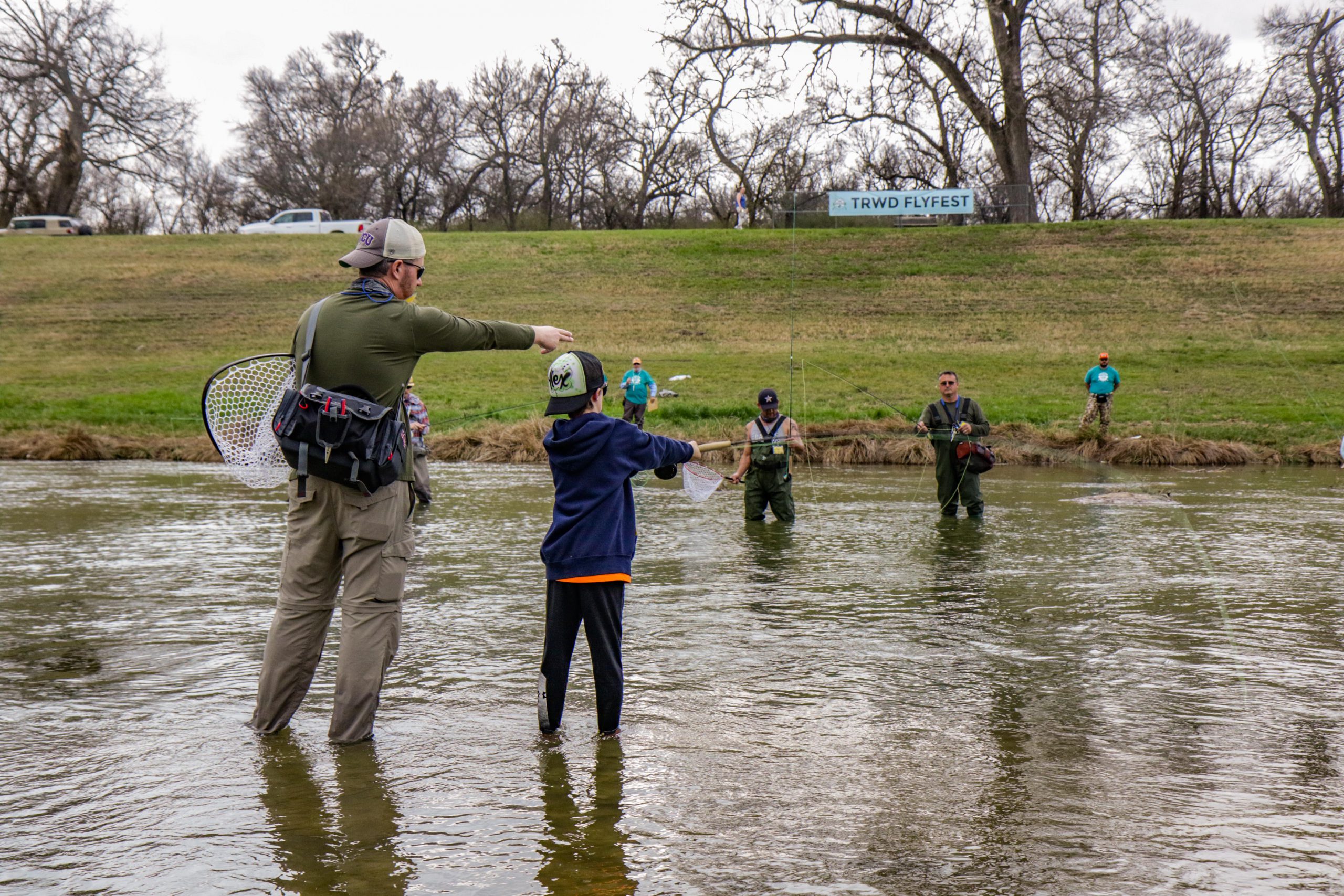 TRWD Flyfest, an annual celebration of urban trout fishing, will be held on March 12 from 9 a.m. to 5 p.m. This family-friendly event, sponsored by TRWD will take place in and along the Clear Fork of the Trinity in southwest Fort Worth. Admission is free.
To create an optimal fishing experience for anglers, the District will stock the river with 1,800 lbs. of rainbow trout prior to the event just north of Bryant Irvin Road.
Whether you are an experienced angler or have never touched a fly rod, this fun-filled event will have something to hook the whole family. Nationally-known fly fishing experts will be on hand throughout the day to help patrons learn about many facets of fly fishing. Two of the event's biggest attractions are the Orvis Big Trout Contest and the Coffee & Caddis Fly Tying Area. Anglers will compete in the contest to catch the biggest trout or the most fish in the time allotted. Patrons can also learn new tricks and methods from professional fly tiers. Open fishing for fly and bait fishing will also be available in designated areas.
The event will also feature live music from local band Chattahoochee Music and many children's activities, including a mini stocked tank for fishing and a rock climbing wall. Local chef Stefon Rishel, from the Trident Restaurant Group, will also be on hand to provide cooking demonstrations.  Food trucks, wine and craft beer and many outdoor vendors will make it a fun day for everyone!
"The Trinity River in Fort Worth proves that you can have great fishing in an urban area," said professional angler Frank Smethurst. "TRWD throws a great event, and I can't wait to return for Flyfest 2022 and to explore the Trinity further."
In addition to TRWD, Flyfest is made possible thanks to the support of Champion Sponsors Orvis and Coffee & Caddis. Other in-kind sponsors include 95.9 The Ranch, 92.1 Hank FM, 360West, Trident Restaurant Group, Fort Worth Fly Fishers, Texas Council of Fly Fishers International, Acme Brick and Streams & Valleys.
Parking will be available for $5 at the River Park Trailhead, 3100 Bryant Irvin Road, on the day of the event. For a parking map and other important event information, visit www.trwdflyfest.com