There is a chance of heavy rainfall starting Sunday in the TRWD watersheds.  TRWD staff will be watching conditions.  At this time we do not have any reliable estimates of how high the lakes will rise.  It is simply too early and dependent on where and how much rain is received.  Some forecasts are showing rainfall totals in the 5 to 7″ range, if that is true it can be expected that the reservoirs will rise some amount.  The main thing will be to stay weather aware by following the National Weather Service (NWS) River Forecast Center (RFC) and to keep an eye on lake levels at TRWD.com  or at the TRWD OneRain site.
Below is the latest guidance from our partners at the River Forecast Center (RFC).
"Bottom Line Up Front…prepare for a lot of rain, starting as soon as Sunday continuing into early next week.
The primary story is a summer cold front that will sag into the area and bring rounds of storms and rainfall to the area later this weekend into next week.  At this time, the focus for the highest rainfall amounts is North Central Texas (including Northeast and parts of Central Texas).  Significant rainfall is expected.
Yes, the area is in drought.  But these rains will be enough to generate runoff.  Rainfall intensity will also generate runoff.  WGRFC forecasters will be watching the smaller/flashier river basins, especially around the DFW Metroplex.  Expect some river flooding.  The larger mainstem rivers, we will have to watch as they could respond as well.  We will closely monitor this and will fine tune the message as confidence increases.
All area lakes have plenty of room to store runoff.  Lakes that have flood pools have their entire flood pool available."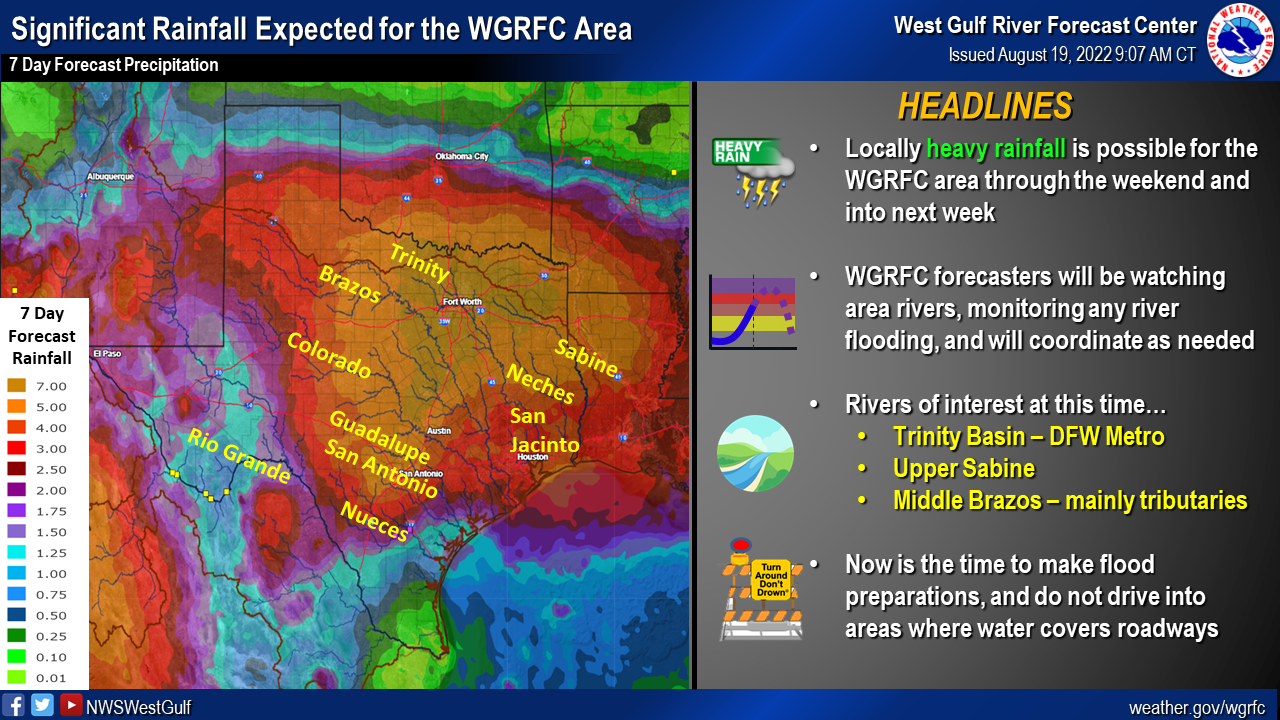 Please call the Flood Hotline for further information.
817-720-4296
If prompted to leave a message, the flood monitor on duty will return your message within 30 minutes.
Posted by CO.