Quick check in as it has been a a few months since the last post.  The reason for that is there hasn't been much rainfall, incase you haven't noticed.  Graphic 1. (below) shows how the past three months of rainfall compares to normal.  Spoiler… rainfall has been about half of normal the past few months.
Graphic-1. Three Month Rainfall Summary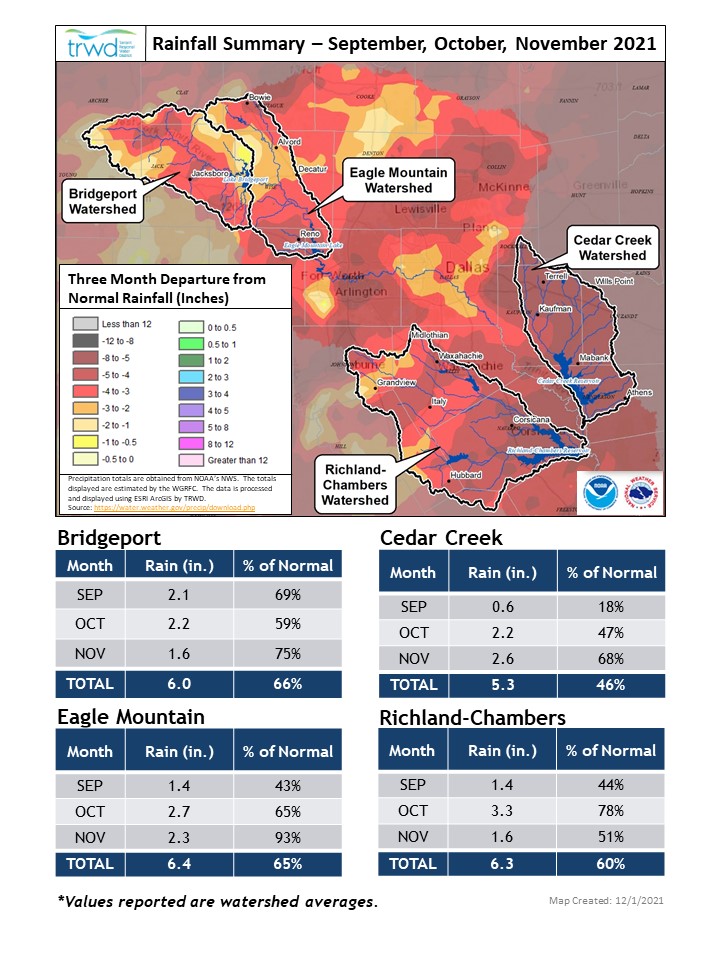 Graphic-1 is from the TRWD Tributary a quarterly newsletter published by the TRWD Environmental Team to provide updates on watershed protection efforts.  If you would like to subscribe to the Tributary, click HERE.
Weather Update
Graphic 2. (below)  was prepared by the National Weather Service (NWS) and shows the outlook for December.  As of right now the outlook is warmer than normal with less rain than normal.  Please follow our partners at the NWS for the latest weather conditions.
Graphic-2. December Outlook

Reservoir Conditions
Current reservoir conditions are shown below.   All reservoirs are currently below conservation level meaning they are less than full.  Low level water supply release are on-going at Bridgeport and Eagle Mountain, these will be monitored and adjusted as conditions dictate.
Remember to check out trwd.onerain.com on your smartphone or computer to view the latest observed lake levels and rainfall totals in the TRWD watersheds.
Please be advised that forecasts and projections are subject to change, and TRWD reservoir operations are based on observed rainfall conditions. Additional updates will be provided as conditions dictate.  Be sure to subscribe to receive e-mail notification of any new Lake Level Blog posts.  You can also follow @TRWD_News on Twitter to receive Lake Level blog notifications.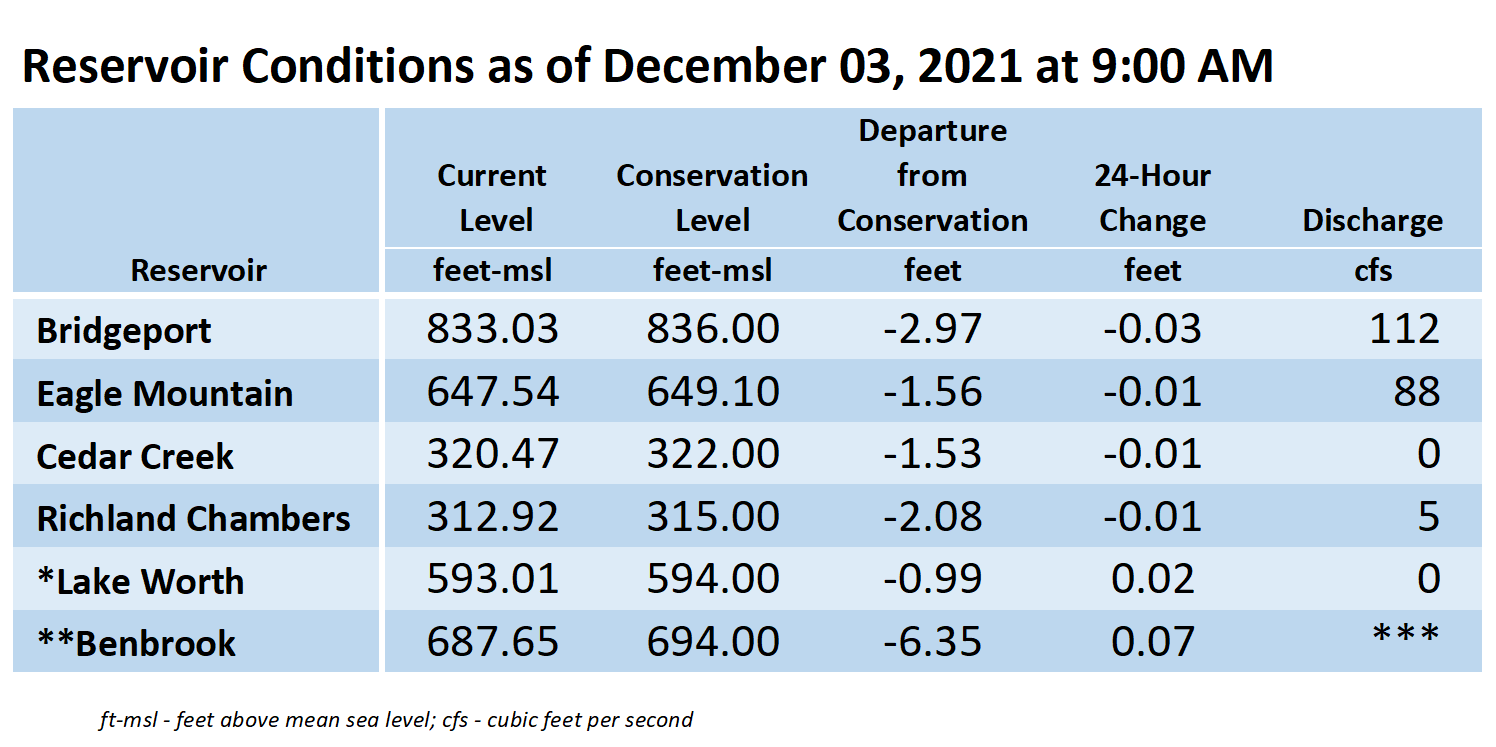 *Lake Worth is owned and operated by the City of Fort Worth.  See the City of Fort Worth news feed and NWS forecast page for updates on Lake Worth.
**Benbrook Lake is owned and operated by the U.S. Army Corps of Engineers.  ***See Benbrook Lake Home Page for current discharge.
Current lake levels can be found in a variety of locations including TRWD.com, the TRWD watershed data viewer trwd.onerain.com, or download the TRWD Lake Level App for iOS or Android.  You may also follow the NWS and the River Forecast Center (RFC) for the latest information regarding weather and river conditions, respectively.   You can also check out this YouTube video to see what OneRain is all about!
Please call the Flood Hotline for further information.
817-720-4296
If prompted to leave a message, the monitor on duty will return your message within 30 minutes.
Posted by CO.