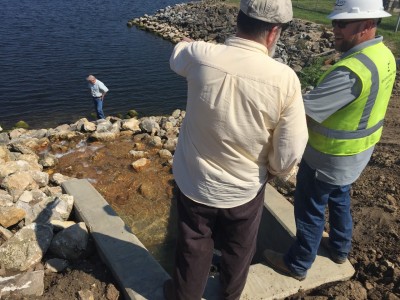 People don't think about dams needing maintenance, but a lot can happen to those solid structures as temperatures, humidity and water levels increase and decrease.
Staying ahead of any potential stability or safety issues, the Tarrant Regional Water District has given each of its dams a full checkup, implementing upgrades that allow the dams to operate more efficiently and fixing anything that could cause a dam to not work how it was designed.
And since 2010, the Cedar Creek dam, which is located southeast of Dallas County, has been under strenuous review and modification.
"We started work near the TRWD office, analyzing the structural condition of the spillway and installing new piezometers, which measure seepage water pressure," said Louie Verreault, TRWD's dam and levee safety engineer. "We then replaced older piezometers at the dam and installed others in strategic locations to get a better picture of subsurface pressures."
Verreault said these devices will soon transmit data through conduits and cables that will feed all that information into a centralized collection point for analysis.
"That's the next phase of the project. The updates will also accommodate future needs of infrastructure and assist with security monitoring," he said, adding that similar work that was completed at Eagle Mountain dam in 2012. TRWD has also upgraded the Cedar Creek dam's drainage system to recoup 288,000 to 576,000 gallons of water per day that is seeping underneath the dam and through its microscopic pores.
"For the past few years, we have been drilling wells and analyzing the seepage that goes through and underneath the Cedar Creek dam," said Verreault.
The previous 50-year-old drainage system collected 79,200 gallons of water per day and discharged it into a downstream channel that quickly turned swampy because of a lack of flow and beaver dams. The overly saturated area also interfered with maintenance and inspection.
Verreault said they wanted a more efficient drainage system that improved stability and safety and could recoup the lost water.
"Since the water is coming from the Cedar Creek Reservoir, I figured well, let's get the water and put it back in the reservoir," he said.
A Freese and Nichols analysis and design enabled TRWD to update the system, adding two pumps that did just that.
"With the old system, we were collecting about 55 gallons per minute," said Marc Miller, project engineer with Freese and Nichols. "That water was going into the creek. The new system is currently collecting 260 gallons per minute – five times the previous amount."
This portion of the dam's checkup is expected to be completed by the end of October. After that, TRWD staff will continue to study and investigate any remaining areas. This thorough investigation will allow the dam to remain stable and secure for many years to come.
"Just like you would take your car in to be serviced, dams must be maintained in a similar way. We would be doing ourselves and the community a disservice to not be proactive about their upkeep," said Verreault.