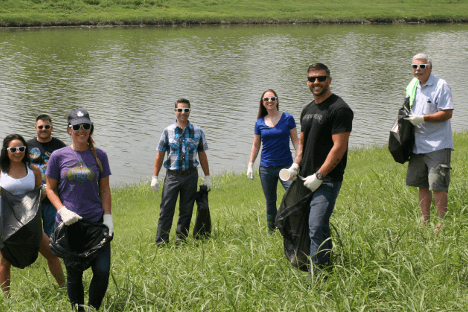 Love the Trinity River as much as we do? Help us take care of one of Fort Worth's greatest attractions by becoming a Riverkeeper through TRWD's Adopt-A-River Program.
The Tarrant Regional Water District started the Adopt-A-River (AAR) program nearly 10 years ago to help keep the river clean and educate the public about the dangers of nonpoint-source pollution. The program has recently been updated with new sections along the Upper West Fork, Lower West Fork and Clear Fork of the Trinity River.
Becoming a Riverkeeper is free, and your efforts to protect the Trinity will make a difference well into the future. In addition, your organization's name will be posted on a sign along your adopted section that recognizes your partnership and participation in the program.
AAR Details:
Commit to two annual cleanups for two consecutive years.
There is a minimum of five participants in your group, no maximum.
Participation in the annual fall Trash Bash is required and counts as one of your two cleanups for the year.
To become a Riverkeeper, email Tina.Nikolic@trwd.com.