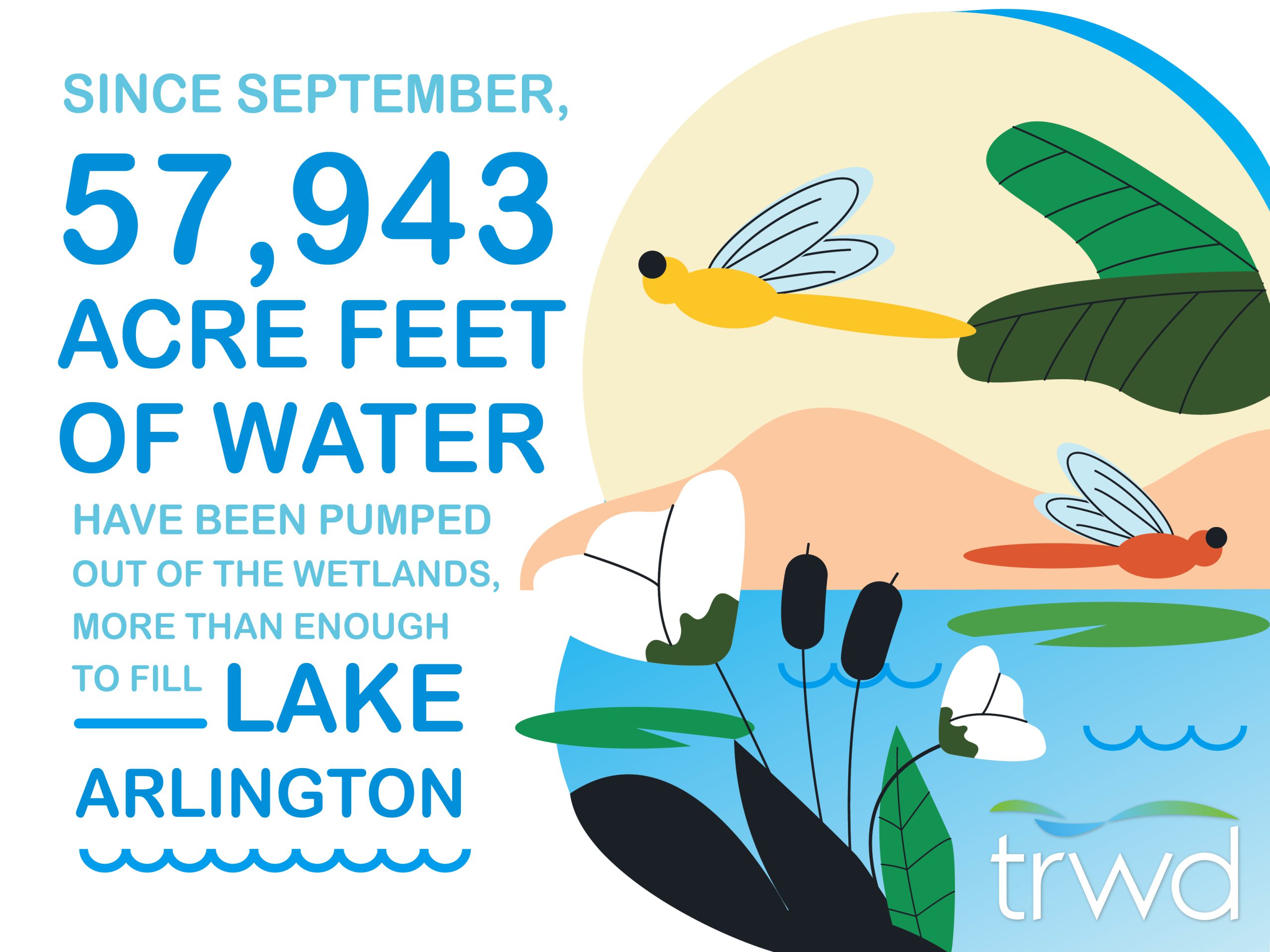 Anyway you measure it, it's a lot of water.
The Tarrant Regional Water District is relying heavily on the George W. Shannon wetlands to boost the 320 million gallons of water a day it is pumping here from its reservoirs in East Texas.
Roughly 70 million gallons a day is coming from the wetlands located adjacent to the Richland Chambers Reservoir, or 47 percent of the 150 million gallons a day the lake is providing. The Cedar Creek Reservoir is supplying 170 million gallons a day.
By supplementing the Richland Chambers contribution with wetlands' water, TRWD operators are able to keep the overall storage capacity of the reservoirs in the system at 92 percent of capacity. It would be 89.45 percent without it, and Richland Chambers would be down by 1.4 feet.
"They are shining right now. We're moving a lot of water," said Zach Huff, TRWD's water resources engineering director.
But the numbers become even more mind boggling when considering the wetlands output since September 2021, when the 2,000-acre wetlands went online.
Since September, 57,943-acre feet of water have been pumped out of the wetlands, more than enough to fill Lake Arlington with its 40,188-acre feet of capacity. Lake Worth, at 34,341-acre feet, could be filled almost twice.
One acre-foot is the equivalent of 325,851 gallons of water.
The wetlands account for 56.4 percent of the water taken from Richland Chambers in the past eight months.
"Yeah, the wetlands have definitely been a blessing," Huff said. "When you think of Lake Arlington and Lake Worth, that's a lot of water."
TRWD is so pleased with the Richland Chambers wetlands it is currently designing a second, 3,000-acre wetlands at the Cedar Creek Reservoir. The new wetlands are expected to provide at least 80 million gallons a day.
TRWD provides raw water to 2.3 million customers in more than 70 North Central Texas cities.