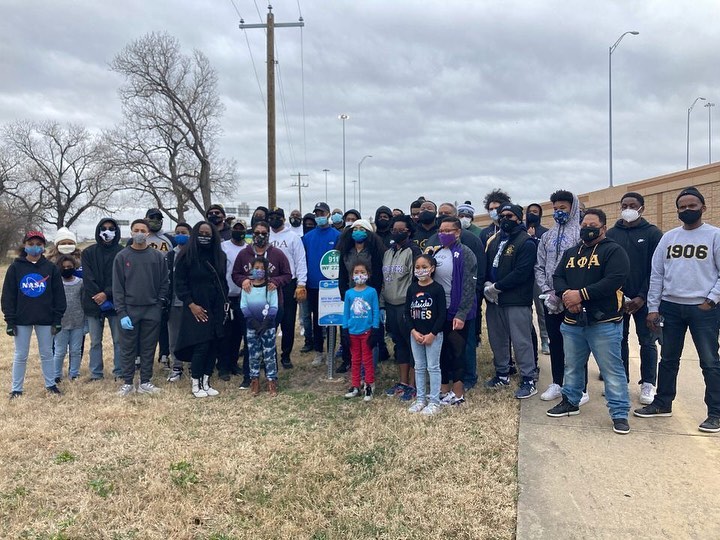 Russell English and his colleagues at Trailhead Exploration take great personal pride in keeping clean their half-mile section of the Trinity River's banks near downtown Fort Worth.
English and others can be seen working alone, or in a group, picking up discarded bags, cups and bottles between the Phyllis Tilley pedestrian bridge and the Seventh Street Bridge.
"I think we enjoy the outdoors, and the trail system is unique, and it is more enjoyable when it's clean," said Russell English, co-founder and chief executive officer of Trailhead Exploration.
They are not alone. Trailhead Exploration is among the corporate and community groups that joined a relaunched Adopt-A-River program at the Tarrant Regional Water District.
Stalled after more than a decade in existence, Adopt-A-River was lifted by a wave of support last year, with 66 of 88 sections of the river being adopted, a 53 percent increase.
Expanding the number of river sections offered up for adoption, providing better support services and putting up improved signage were credited with giving Adopt-A-River new life.
"We basically started out with nothing – the original program didn't have a lot of traction – and as people got involved, it sort of snowballed. It became overwhelming at one point," said Hermilo Munoz, an events and marketing specialist for Tarrant Regional Water District.
"I'm extremely proud of the good that has come out of the program," he said.
Modeled after the adopt-a-highway program, the Adopt-A-River effort was started about 10 years ago. The Trinity River near Fort Worth was divided into 86 sections, some of them about a mile long, and made available for anyone or any group to adopt free of charge.
But the volunteer effort wasn't particularly successful. Only 19 sections of adoptions were on file, monitoring of the program was lax and the district was spending about $10,000 a year without much to show for it.
In steps Munoz with the mission of reviving the program. It was quickly determined that Adopt-A-River faced three major obstacles: unsustainable maintenance costs, low participation and minimal public exposure. Other, structural changes also needed to be done, he said.
First, the number of sections of river for adoption were boosted from 86 to 88 while they also were realigned to make more manageable and attractive to volunteers, Munoz said.
"The old ones could have been a mile long and that's way too much real estate to cover, so we tried to make it much more manageable for the groups involved," he said.
It was also decided to designate river sections into community or corporate-only categories, with the corporate sponsors getting the high-traffic areas that produced more trash. Community adopters are asked to make a one-year commitment; corporate teams are asked for two years.
Corporate sponsors are also asked to pay a $500 fee – or $250 a year – to be a part of the program. The money raised helps pay for the trash bags, signage and support services for the entire program, making Adopt-A-River self-staining for the first time.
All 30 sections of Clear Fork running near central Fort Worth hooked sponsors, while the Upper and Lower West Forks saw 36 of their 58 sections net sponsorships. So far, 23 corporate sponsorships have been initiated.
To better promote and support Adopt-A-River, the Water District improved the signage naming who has adopted a chunk of the river by attaching it to the prominent 911 signs that are installed along the 100 miles of Trinity Trail, Munoz said.
In marketing the program, corporate sponsors – which are required to have at least two cleanups a year – not only get to put their company's logos on the signs, they also are recognized on the Adopt-A-River website and social media pages. Photos of cleanup activities are also posted.
The success of Adopt-A-River in 2020 has Munoz and others thinking of expanding the number of sections available for adoption to 92. He said they are also looking at casting a bigger net by allowing groups to adopt other waterways, including the banks of Marine Creek Lake.
"We're providing an avenue for people looking for a community service activity and to do it in a way they hadn't before," Munoz said. "We want it to be a mainstay in the community for generations."
Residents looking for a safe activity during the pandemic dramatically increased foot traffic along the river's Trinity Trails, helping them form a stronger bond with the rivery.
"Our program was the most convenient way for them to give back," Munoz said.
Trailhead Exploration's employees clearly enjoy their time down by the river.
As they sweep the banks in their hardhats, ball caps and straw hats, Trailhead employees joke around as they pick up, pull out and pack away the aluminum cans, bits of paper and muddy and broken pieces of wood. Each time they fill 8 to 10 bags with trash.
"Every time we do it, it's a good amount," said Jenny Anderson, a data analyst at Trailhead. "But we make an afternoon out of it."
English said it's worth it. These are the same trails they walk, run and bike every day.
"It gets us out of the office and helps us appreciate where we live and the trail system," English said. "It's a fun way to support our city and clean up the river."