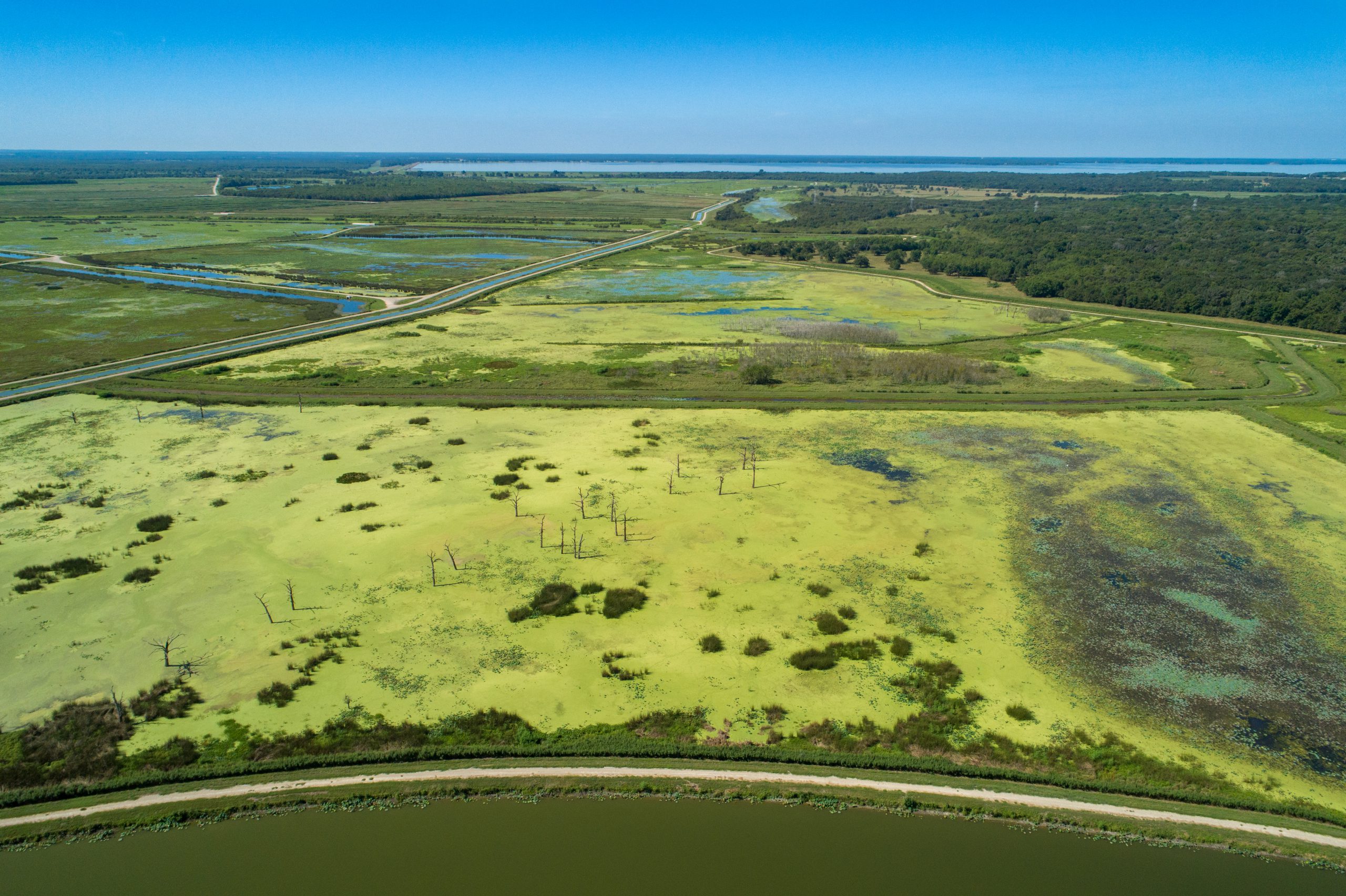 Last summer, as the thermometer hit 100 and there was barely any rain, the wetland at the Richland Chambers Reservoir brought welcome relief.
As a matter of fact, the 2,200-acre wetland produced enough water last year to fill Lake Worth.
Not once, but twice.
Or, another way of saying it is that the water coming from the East Texas wetland would have almost filled Lake Worth and Lake Arlington.
No matter how you look at it, the wetland water helped the Tarrant Regional Water District avoid imposing drought-related water restrictions at the height of the summer in 2022.
TRWD officials hope to replicate that success – but on an even larger scale – with its new wetland near the Cedar Creek Reservoir.
The 3,300-acre wetland is projected to produce an average of 156 million gallons a day – with top production hitting 176 million gallons – compared to the 90 million on average coming from Richland Chambers.
Final designs for the wetland, pump stations and pipeline are underway. Construction is set to start in 2026 with the project providing water by 2032.
At full capacity, the 156 million gallons a day from the Cedar Creek wetland is enough water to serve an additional 1.1 million people, officials predict. 
It's all about using the existing water supply as efficiently and economically as possible, officials said. Compared to a reservoir, wetland water is a great buy since it costs one-fourth as much as water from a reservoir.  
"Across the board it's a huge win for the district," said Jason Gehrig, TRWD's director of infrastructure engineering.
Both wetlands reuse water from the Trinity River that is pumped through man-made sedimentation basins and treatment cells, built to act like the marshy areas that naturally occur along many streams or rivers.
Vegetation planted in those cells will act as filters, cleaning out impurities before TRWD deposits the water into their reservoirs. Water flowing into a wetland resembles foamy chocolate milk. What comes out is clear.
Besides increasing water supply, a bonus is a wetland's ecological impact. Wetlands are routinely praised for restoring wildlife habitat typically lost by growth and the activity to support it.
"Everyone wins on these projects," said Chris Zachry, TRWD's wetland project manager. "I still haven't found anyone who doesn't like wetlands. They wonder why we aren't building more."
In 2013, as TRWD tapped into the George W. Shannon Wetland, planning for the Cedar Creek project, 10 miles east of Ennis, was already underway.
By 2014, TRWD had already bought the majority of the land or obtained the permanent easements needed for the wetland and its pipelines. A 50-year water demand study, which looked at demographics and water usage, made it clear that both wetlands were needed.
Yet, the Cedar Creek project presented some unique challenges.
At Richland Chambers, the Trinity River, the sedimentation basins and the treatment cells are literally next door to the reservoir.
The Cedar Creek wetland is also being built along the Trinity River. But to get the water to the Cedar Creek Reservoir, a pump station will be needed to push the treated water through a 10-mile-long pipeline, also requiring that a balancing reservoir be constructed. 
As a result, the Cedar Creek wetland is estimated to cost $450 million. 
Still, the wetland is considered a financially prudent thing to do, especially since it will allow the District to postpone developing a new reservoir, which would take longer to do and cost more than $2 billion. 
It will not only treat existing amounts of reusable wastewater when construction is complete, it will also accommodate treated wastewater that will be available for reuse by 2060.
"Not all of it is in the river now, but it's coming, because the people are moving in fast," Zachry said.
TRWD's Board of Directors also recently approved a $90,000 feasibility study for treating water for the North Texas Municipal Water District, which is preparing for future growth east of Dallas.
The Richland Chambers wetland – the largest of its kind when it went into operation a decade ago – shows how important a wetland can be in boosting the available water supply.
"The Cedar Creek wetland is a home run on so many fronts," Gehrig said. "From a social, economic and environmental perspective, it's an idea everyone can get behind."