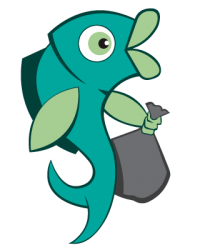 [fusion_text]For more than 25 years, TRWD has hosted cleanups along the banks of the Trinity River. Every piece of trash picked up at one of these events is one less piece in our waterways. And with the help of so many Fort Worth-lovin' volunteers, we are able to keep thousands of pounds of trash from getting into the Trinity River every year.
Join us for the 3rd Annual Spring TRWD Trash Bash on Saturday, May 20th from 8:30am to 10:00am. Pick a location and bring a group, a friend or just yourself to help clean up trash along the Trinity.
When the trash is all bashed, volunteers are treated to an after party with free food, door prizes and entertainment at Panther Island Pavilion and Cobb Park.
You can grab your cleanup packet on Thursday, May 18th or Friday, May 19th, 8:00 AM – 5:00 PM at the TRVA Office located in the Star-Telegram Building located at 307 W. 7th Street or the morning of at your chosen location.
Make sure to register before May 5th at 11:59 PM for a guaranteed free t-shirt(s).[/fusion_text]