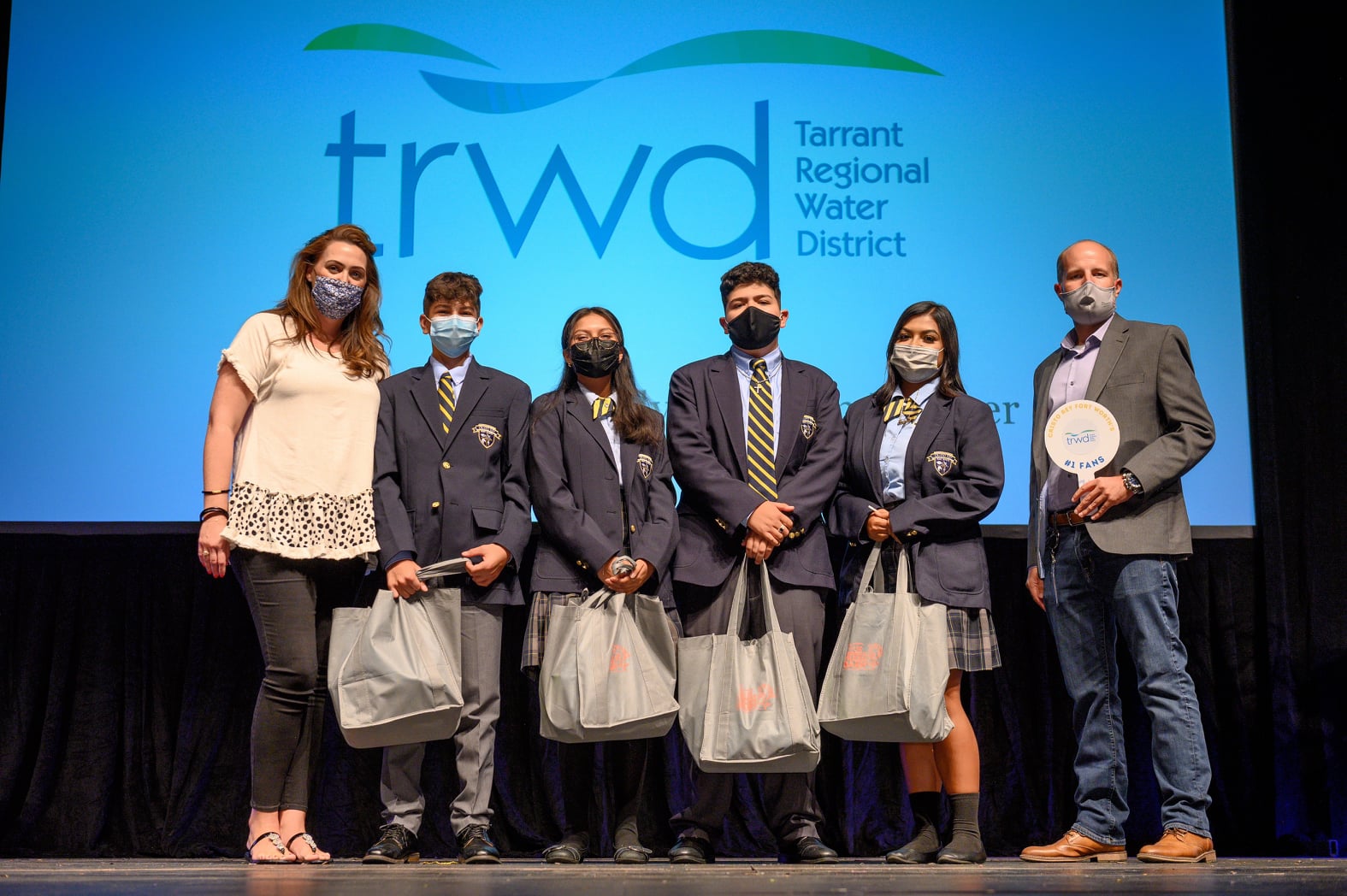 Jailyn Ochoa wants to grow up to be a social worker and she thinks her job at the Tarrant Regional Water District will help her get there.
While creating excel spreadsheets of media contacts may seem far removed from social work, the 17-year-old said she can see where the hands-on experience she's getting will help her in college and beyond.
"It's giving me a head start and I'm getting that hands-on experience ahead of time. … Experience someone else my age may not have," said Ochoa, who works in the District's public affairs office.
Ochoa is a senior at Cristo Rey Fort Worth College Prep and one of four students working at the District this year as part of the school's work study program. The students work at least one day a week at the District.
While it's the first year for the District to be involved in the Cristo Rey program, officials say that they so far have been impressed and inspired by their new colleagues.
"The school year has barely started and what we have seen from the Cristo Rey student workers is amazing," said TRWD Human Resource Manager Shelby Lyon. "They are professional, smart, and up for any challenge we present to them."
"TRWD is excited and proud to be partnering with Cristo Rey in hopes that our experiences with these students will make a positive impact on their future," she said.
The students, who come from families with limited economic resources, use the "wages" they earn to help pay the school's tuition, said Dani Ray Barton, director of Cristo Rey's work study program.
But as important as the money they earn is the time management, communication, and critical thinking skills that they develop on the job, skills that will prepare them for the rigors of college, she said.
"Working in places like the District … places that students couldn't ever dream of … and making that connection with the importance of the education they are getting right now … helps them see what those future opportunities could be for college and beyond," Barton said.
First graduating class
Cristo Rey Fort Worth College Prep, started by the Catholic Diocese of Fort Worth, opened in 2018 and is located on Altamesa Boulevard. It is part of a national network of 38 Cristo Rey schools and the third in Texas.
Currently the local campus has about 225 students and will have its first graduating class in 2022. Cristo Rey nationally has more than 13,000 students and 18,500 alumni since the first school opened in 1996.
Open only to families of limited economic means, 98 percent of those enrolled nationally are students of color and 97 percent would be the first generation to attend college. The national average household income is $37,000 for a family of four.
The philosophy behind Cristo Rey is to pair four years of rigorous academics – many of the courses are advanced placement – with four years of work study. To succeed, students must be diligent and dedicated.
"Our goal is to see them all get into college, so our school year is a little longer and our school day is a little longer because we have to make sure that they are getting what they need," Barton said.
It costs about $17,000 a year to attend Cristo Rey, which is out of reach for most of the childrens' families. To make it affordable, about 40 percent of the tuition is paid for with money brought in by fundraising; 10 percent by parental contributions; and 50 percent by work study "wages" earned through the students' participation in the program.
Companies pay about $8,600 per student to the Cristo Rey Work Study Program, an entity created by the school that technically employs the students and matches them up with available jobs. Fort Worth Cristo Rey has about 60 companies participating in the work study program.
In preparation for taking in the Cristo Rey students, companies are asked to provide job descriptions and to not just offer an opportunity for them to "shadow" one of their employees.
"We place them based on their skill set and what the (corporate) partners are looking for," Barton said. "We can't have a school without a work study program and the kids have to provide value-added work to keep the partners hiring."
"It's a true work study program. They are working," she said.
Hands-on experience
The District prepared for the Cristo Rey students by putting those providing guidance through internal training on how to manage the students, Lyon said.
"We picked people with mentorship potential," Lyon said. "For this we set the expectations high and the bar high because we wanted the students to have the best experience."
The four students work in public affairs, administrative services, infrastructure engineering and conservation. They represent all four grades at Cristo Rey. The District paid Cristo Rey $34,500 to sponsor the students.
They work at least one day a week, Monday through Thursday, and then alternate working at least one Friday, for a total of 40 hours a month, Lyon said.
While it's early in the school year, what the student will be allowed to do will depend on their capabilities. Cristo Rey does a good job of preparing the students on how to act in a professional workplace, she said.
"Obviously, they are not going to work on anything sensitive," Lyon said. "But there are two primary objectives we are trying to make sure each student gets."
"One is exposure to a professional work environment so they can pick up on everyday business etiquette, and the other is that they would get to see how a first-time job and the smallest of tasks make a big difference," she said.
Freshman Jahir Martinez, 14, works in administrative services and said he's already seen how an office operates. A self-described introvert, Martinez said his job is drawing him out of his shell, which will help in his ultimate goal of becoming a dentist.
"I'm really a shy person and this opportunity has made me grow and learn how to talk to people I don't know," Martinez said.
Martinez would be the first in his family to attend college. His father is a cabinet and furniture maker and his mother stays at home to take care of his two younger siblings, ages 6 and 2.
Ochoa's parents didn't attend college either: her father is a mechanic and her mother is a homemaker. Her two older brothers, however, continued their education after high school. One is seeking a business degree and the other went to vocational school to be a certified diesel mechanic.
When she graduates from Cristo Rey in the Spring, Ochoa knows she'll benefit from her experiences at TRWD and her other jobs – one an architecture/engineering firm, the other a senior living property management company.
She thinks there should be more programs like Cristo Rey.
"Having older brothers, I see the difference between me and them," Ochoa said. "My brother went to college and he really didn't know anything about internships and how going into an office is different from a factory job."
"But I have been able to get that experience. I think it's something everyone should get. Get a head start and get that hands-on experience that when they get to college they won't go in not knowing anything."