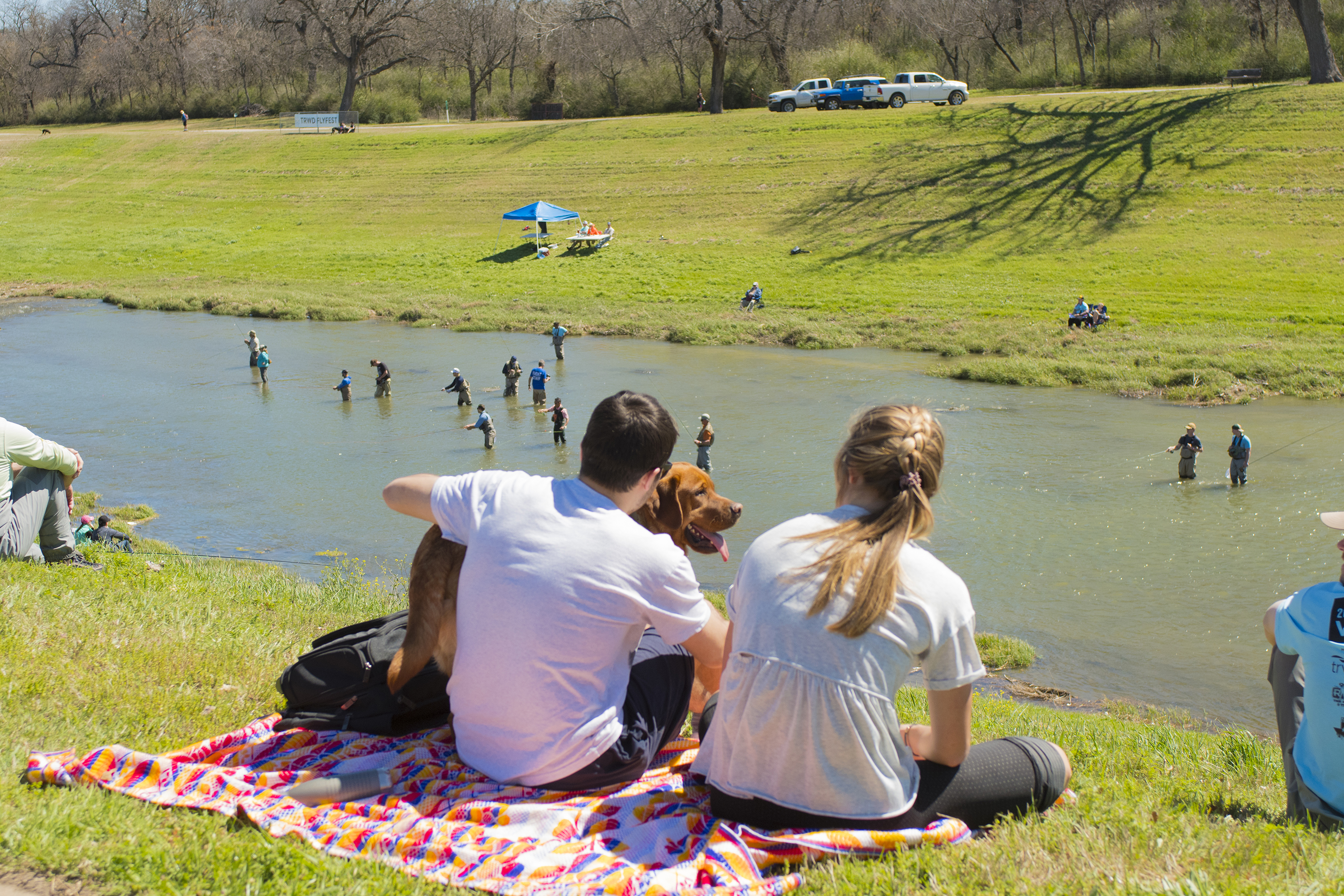 The Tarrant Regional Water District (TRWD) trout stocking season culminates with TRWD Flyfest, a celebration of urban fishing in and along the Clear Fork of the Trinity River in Southwest Fort Worth. The family-friendly festival will be held on March 13 from 9 a.m. to 5 p.m. To create an optimal angling experience, TRWD will release 1,800 lbs. of rainbow trout in addition to the nearly 3,000 Texas native fish stocked annually. Whether you are an experienced angler or have never touched a fly rod, this fun day will have something to hook everyone in the whole family.
The day will feature presentations from nationally-known experts that will cover a wide range of topics.  Fly tying lessons will also be available throughout the day. Experts will host numerous hands-on demonstrations, including beginner casting, a women's casting class and more casting advanced classes. The festival's main event will once again be the ORVIS Big Trout Contest where anglers compete to catch the biggest trout or the most fish in the time allotted. Open fishing for fly and bait fishing will also be welcomed in designated areas.
Additionally, TRWD Flyfest promises to appeal to the whole family with live music from local artist, Deric Merrill and a children's activities including a mini stocked tank for fishing and a rock wall. James Gaines, Executive Chef, Reata Restaurant will be on hand providing cooking demonstrations. Food trucks, wine and craft beer and outdoor sports shopping vendors will make it fun for everyone!
"The Trinity River in Fort Worth proves that you can have great fishing in an urban area," said professional angler Frank Smethurst. "The Trinity has really interesting fishing with clear water and impressive species diversity. The Tarrant Regional Water District throws a great event, and I can't wait to return for TRWD Flyfest 2021 and explore the Trinity further."
TRWD Flyfest is made possible thanks to the support of Champion Sponsor Orvis and Supporting Sponsors Backwoods.  Special thanks to in-kind sponsors 95.9 The Ranch, 92.1 Hank FM, KDFW Fox 4, 360West, Reata Restaurant, Fort Worth Fly Fishers, Texas Council of Fly Fishers International and Acme Brick.
Health and safety protocols will be in place to provide social distancing and enhanced sanitation measures. In light of the Governor's recent Executive Order effective March 10, 2021, face masks are required for entrance in the indoor presentation and fly-tying areas. Masks are not required but strongly encouraged in outdoor activity areas. For more information on TRWD Flyfest, visit www.trwdflyfest.com
TRWD Flyfest is a product of TRWD's Fish-the-Fort which is an urban fishing initiative to restore the natural environments and the ecological communities that inhabit the Trinity River. The initiative includes enhancing recreational fishing opportunities, re-stablishing native species and educating the community on stewardship, environmental quality and environmental conservation to protect a precious natural resource.