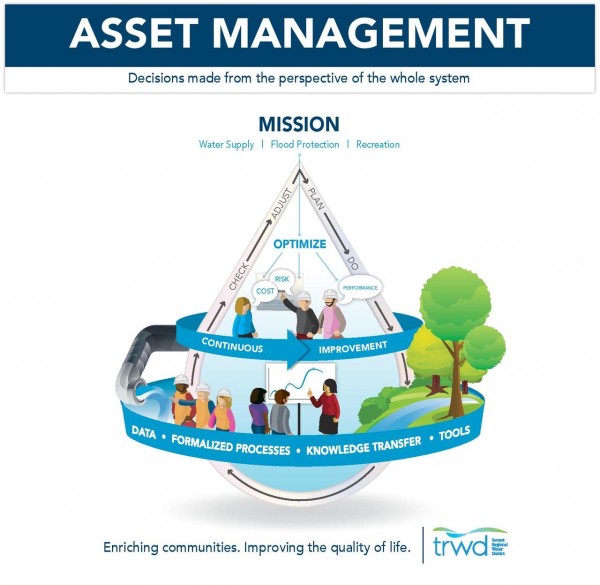 The Tarrant Regional Water District (TRWD) is a rapidly growing organization that supplies raw water to approximately 2.1 million people in 70 cities. Water demands have tripled in the last 40 years and continue to rise. TRWD has doubled the number of pump stations in service since 1998 and increased its transmission pipeline length another 21 miles, to about 186 miles. TRWD's current project, the Integrated Pipeline, a joint project with Dallas, will add an additional six pump stations and 160 more miles of transmission line. TRWD realized that effective asset management would be crucial to ensuring long-term performance of their system and started the implementation of a formal asset management program in 2014 following the ISO 55000 standard.
TRWD's asset management journey involved a phased approach that included the program preparation, analysis and recognition of organizational impacts, ensuring all members were on board, and choosing the right sequence of priorities. Phase 1 of the program focused on assessing the current situation, developing a detailed roadmap, and evaluating the effectiveness of the proposed approach. Phase 2 focused on piloting the different elements of the program prior to the full roll-out.
"Developing a comprehensive program that connected elements of our entire system with the right internal stakeholders was crucial. We also knew that communication was going to be paramount in executing a plan," said Rachel Ickert, Water Resource Engineering Director with TRWD.
Through a steering committee and work teams, the asset management program was carefully designed to streamline processes, improve business performance, and create a line of sight between the company strategy and activities across the organization. "Making asset management objectives accessible on all levels for our staff was achieved because we communicated in a variety of ways from graphic handouts, to an interactive website and a customized video," added Ickert.
To read the industry paper submitted for Texas Water 2017 on behalf of TRWD and Arcadis, please see the link below.
Asset Management Texas Water Paper