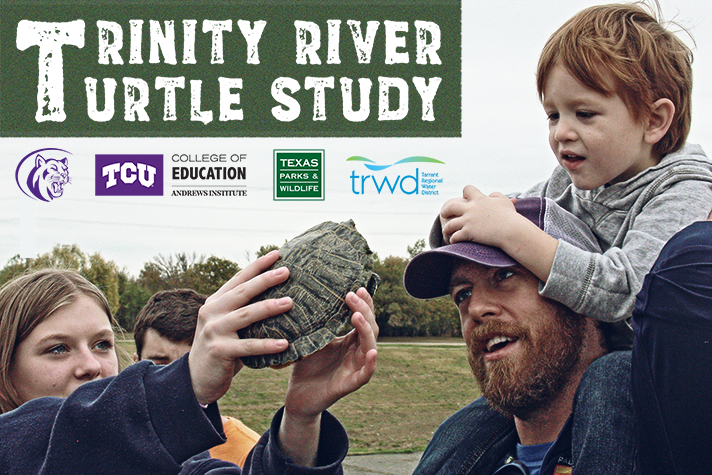 For Paschal High School teacher Andrew Brinker, turtles are not just a life-long fascination but somewhat of an under-explored topic in our local environment.
Brinker has drawn from his academic and professional experience to launch the Trinity River Turtle Study; a three-year project backed by Texas Christian University's College of Education and executed by his very own high school students.
"The big goal is to get students outside and involved with a field project and learning basic natural history," said Brinker. "Most students don't know the birds and plants in their own yard."
At least once a month, trail users can catch Brinker and his students, along with other experts and family members, collecting samples along the banks of the Trinity River. Much of their field work is a waiting game since the turtles first need to be trapped in cylindrical float nets. The students get to help assemble these traps while Brinker goes into the Trinity River to place them along currents where turtles are known to meander. It can take a few minutes to several hours before a turtle is caught and then taken to the research tent for documenting and tagging.
Brinker is assisted by Chelonian conservationist Viviana Ricardez who teaches the students about the different species inhabiting the river and proper identification techniques that include scute marking the shells, taking size and weight measurements, and tagging each turtle with PIT chips.
Turtle identification plays directly into one of Brinker's ultimate goals to document the turtle community for potential conservation needs in the future.
Ricardez said the process enables them to see the male to female ratios and even bring to light threats and diseases."
"Many people do not realize that Chelonians (turtles and tortoises) are one of the most endangered vertebrae in the world," she said.
At the Tarrant Regional Water District, we are proud to provide the clean and accessible waterways that make this study possible. Together withBrinker, Ricardez and Texas Parks & Wildlife, we hope the Trinity River Turtle Study will foster a new wave of turtle appreciation not only in his class, but also within the Fort Worth community.
Follow their journey on their Facebook page and make sure to keep an eye out for a future Creature Feature highlighting the Trinity River's turtles.
[/fusion_text]