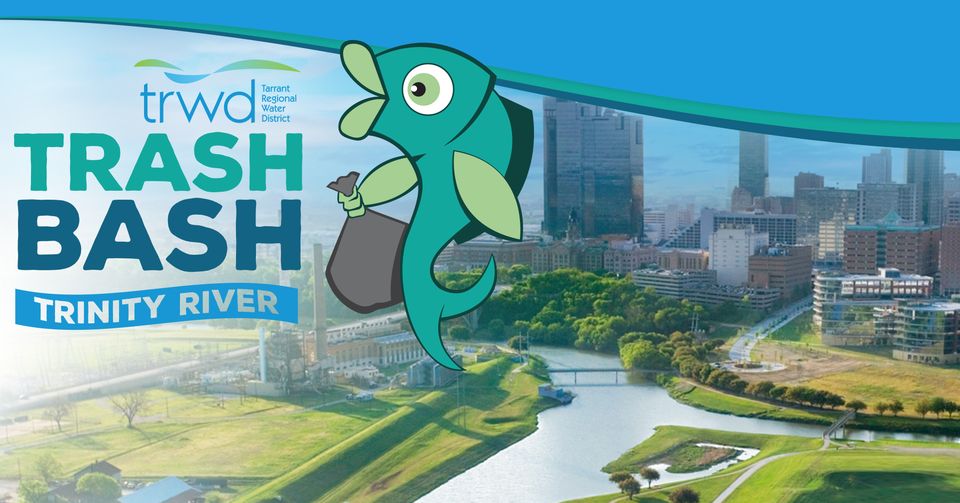 It's not too late to sign up for one of the two TRWD litter cleanups scheduled for this Sat., April 22 along the Trinity River in Fort Worth, and at Marine Creek Lake in northwest Tarrant County.
The Trinity River Spring Trash Bash, which will be held between 8 a.m. and 1 p.m., features nine cleanup locations along the Clear and West Forks of the river throughout Fort Worth. Prior to the event, volunteers will be provided trash bags and gloves in order to safely collect the trash. Participants can pick up trash throughout the morning, and then attend the Trash Bash Volunteer After-Party located at Coyote Drive-In located at 223 NE Fourth Street, Fort Worth 76164.
The Marine Creek Trash Bash will also be held from 8 a.m. to 1 p.m. on April 22, and will have two suggested pickup locations: Marine Creek Trailhead and Ten Mile Bridge Trailhead. Participants at Marine Creek Lake will also be provided gloves and trash bags, and be treated to an after-party at Marine Creek Trailhead from 10 a.m. to 2 p.m.
To find out more information about registration and cleanup locations for both events, as well as information on the respective after-parties, visit www.trwd.com/trashbash.