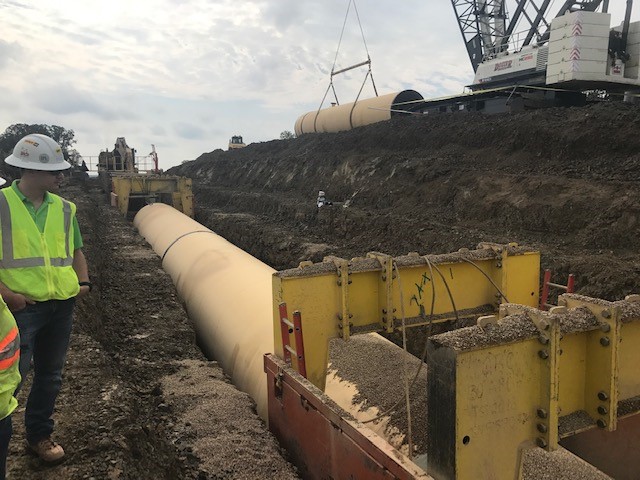 The Integrated Pipeline Project achieved another milestone in September 2020 when the Tarrant Regional Water District began pumping more than 240 million gallons of water a day from its East Texas reservoirs at a lower cost.
By using the new pipeline with its larger pipes and more efficient pumps, TRWD is able to save on its energy bill when delivering that water from the Richland-Chambers and Cedar Creek reservoirs to North Central Texas.
While the new pipeline has been used to move smaller amounts of water in the past couple of years, September 1 was the first time flow through the pipeline was "bumped up" to use more of its capacity.
"Being able to use the system as it was designed is exciting," said Laura Blaylock, TRWD's manager of Energy and Water Management. "We're able to move the same amount of water with less energy."
The $2.3 billion IPL is being built in partnership with the City of Dallas. When the system is completed it will connect three reservoirs – Lake Palestine, Cedar Creek and Richland Chambers – to the TRWD system.
TRWD is responsible for building and operating the pipeline. The Dallas utility is paying for about half the project. So far, about 81 miles of pipeline is in the ground with about 69 miles being used every day.
Besides expanding its capacity to better serve its growing customer base – a completed IPL will be able to deliver an additional 350 mgd – TRWD can potentially save millions of dollars a year in energy costs in using the new pipeline.
The bigger pipes – 84 inches to 108 inches in diameter compared to 72 inches to 90 inches under the old system – cut down on the friction encountered in pushing the water 400-feet uphill from East Texas.
The new IPL will also use more energy-efficient pumps to move the water. TRWD recently began using a booster pump station near Bardwell Lake to help deliver 240 mgd to Fort Worth.
The cost savings can be significant, Blaylock said.
For example, under the old system it took about 32 megawatts to move 190 mgd from Richland Chambers using the lake pump station and two booster stations. Using the new JB3 booster station reduces the total amount of power to about 24 megawatts for the same flow rate.
The eight megawatt drop – or 8,000 kilowatts – can save TRWD a lot of money, depending on the time of year and weather conditions.
TRWD costs for pumping water can range from $15 million during wet years to $30 million during dry years. During the drought of 2013 to 2014, the average annual cost was $29 million.
"If the new system had been in place during the drought years there could have been savings of several million dollars in just overall reduced energy to move the same amount of water," Blaylock said.