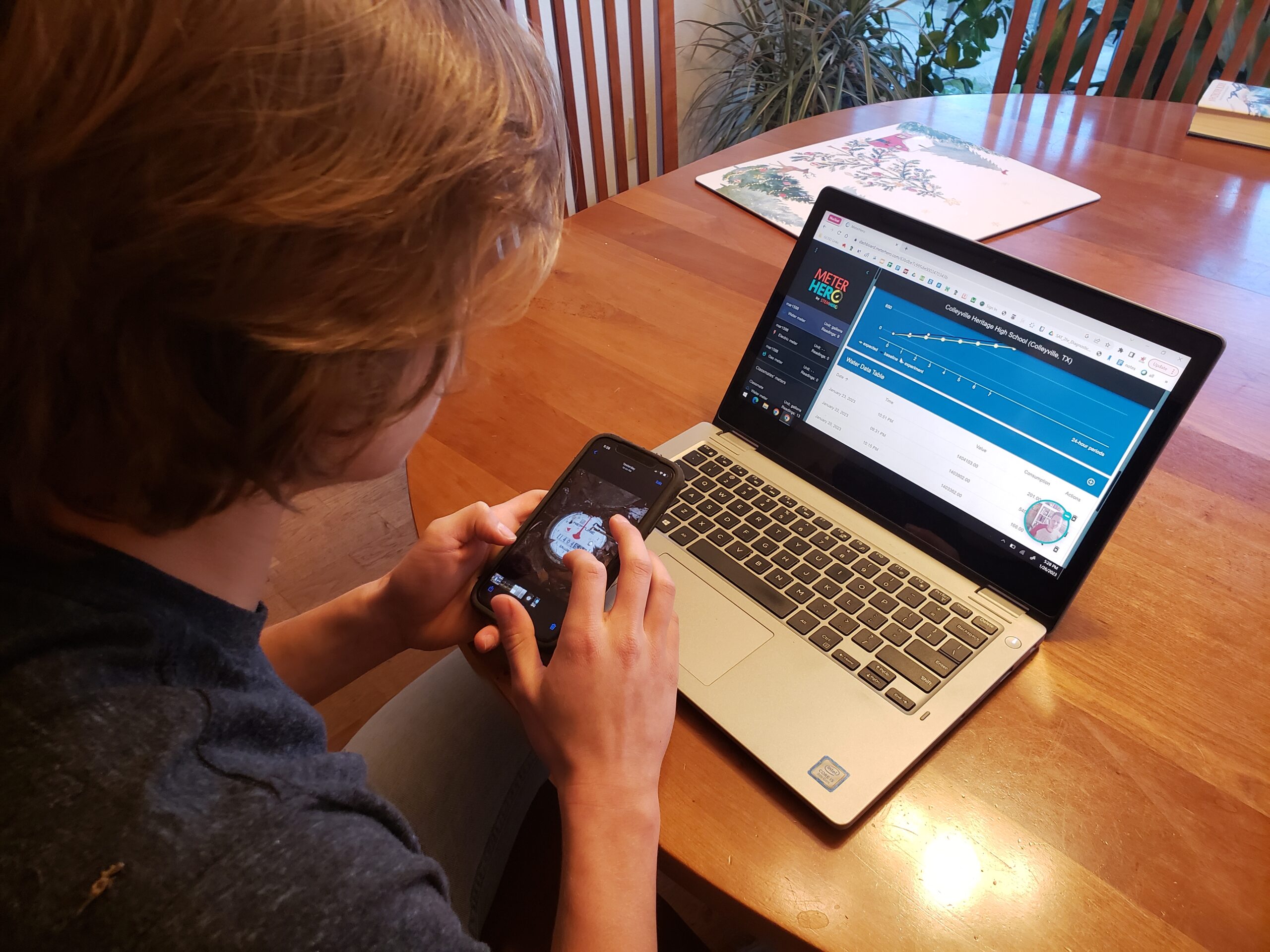 Leslie Nava's research uncovered something shocking: The showers her family of five were taking every morning were going on way, way too long.
Nava said their showerhead spit out 2.71 gallons a minute. As a result, her Dad's and sister's showers alone used 54 gallons of water a day.
"Our showering habits were insane," said Nava. "My Dad would leave the water running while he was getting ready, before getting in the shower."
Nava made this eye-opening discovery through the MeterHero program, an innovative, science-based curriculum being used in area high schools and sponsored by the Tarrant Regional Water District.
Designed to mesh with the curriculum used for Advanced Placement Environmental Science, MeterHero gives students a chance to analyze their family's water usage.
Students read their home's water meter to determine a baseline of usage, then design and test various solutions – such as taking shorter showers and installing low-flow showerheads – to reduce consumption.
More than 400 students in three schools – I.M. Terrell in Fort Worth, Carroll Senior High in Southlake and Colleyville Heritage in Colleyville – are participating in the program. It is available to other area high schools as well.
"Our communities survive and thrive because of reliable, clean drinking water. Helping kids value and conserve the water they use is essential," said Betsy Marsh, TRWD's conservation education coordinator.
"MeterHero is an innovative and empowering program – so we're pretty excited," she said.
TRWD provides raw water to 2.3 million residents in more than 70 North Central Texas cities. It is always looking for ways to help its customer cities conserve water so they can provide for their fast-growing communities.
Teaching the younger generation about water consumption and conservation is one way to encourage stewardship of this valuable, and limited, resource.
The MeterHero program was developed by a team of teachers at the Global Water Center in Milwaukee, Wisc. The curriculum has been used by hundreds of teachers around the country.
"This came about because teachers were looking for a way to make what they were teaching more relevant," said Nate Conroy, a former teacher who developed the program for his company, STEMhero LLC.
"Teachers were wanting to help students see how what they were learning in class applied to their lives outside of class," he said.
While built around the AP syllabus, MeterHero is tailored to meet the needs of each entity using it.
For TRWD, MeterHero created an internet dashboard for the teachers and students that includes information about TRWD, the local water utility, a virtual tour of the water supply system, and conservation programs.
It also provides a link to the online utility portal, if available, for the student to collect data on their home's water usage. In cities without "smart meters" – which transmit data wirelessly – students gather data directly from their curbside water meters or specific water fixtures at their homes.
They analyze this data and then form their experiments to change consumption.
Students collect and closely evaluate their data over the course of several weeks. They look at it every day and see what changes occur after they impose a water-saving strategy.
"The idea here is if we can engage students with real data from their homes it will be more relevant and interesting than if they learn it from a story problem," Conroy said.
I.M. Terrell teacher Lauren McNutt has about 80 students in her AP Class, with 75 percent of them conducting experiments on water usage. She said that "a lot of them have been having a lot of fun with it."
To be impactful, the families have to buy into the experiments, McNutt said. Both learn a valuable lesson on water sustainability.
"Sometimes when a kid takes an AP class it is harder to see the bigger picture," McNutt said. "This way they could do it at home and even if they don't go into the environmental sciences, they can take it with them."
Carroll High School instructor Kim Lufkin has about 200 students designing their water studies. She thinks it's going to be an educational experience not only for the students and their parents, but their community.
MeterHero teaches students critical thinking and how to conduct real research, which will also help them on the AP exams. But possibly, the life lesson they learn is the most valuable of all.
"The students have learned we've got 8 billion people in this world and we're growing exponentially, so we're going to have a problem," Lufkin said. "I think it's going to be a real eye opener for them and their families."
Kelsey Kosik, a Fort Worth Water Utility conservation specialist, and Madisson Dunn, a Southlake Public Works Department environmental and regulatory supervisor, joined with TRWD to meet with students and help launch the MeterHero program.
Kosik, who worked with students on how to find and interpret data from Fort Worth Water's website, said she thinks MeterHero is an incredible opportunity to connect with "young scientists" about the challenges being faced by not only Fort Worth, but by utilities across the country.
"By connecting the scientific foundation of the program with the actual results these students find, it makes them aware of their water use and how it affects their family," Kosik said.
There's already been a change in Nava's home in Fort Worth.
"My Dad is taking his showers real quickly now and now he has more time in the morning (to spend with us) instead of just being in the shower," Nava said. It's a lesson that will stick with her.
"When I grow up I'm going to make sure my water usage is not without purpose."