It's hot, the grass on the front lawn looks way stressed out and you've got to wonder – and maybe even worry – as you turn on the sprinkler if there will be enough water to go around.
Don't panic. Despite record-breaking temperatures and skyrocketing demand during this heat wave, the Tarrant Regional Water District expects to have enough water for the summer.
As of July 23, the seven reservoirs operated by TRWD stood at 93 percent storage capacity, even as the demand for water topped 500 million gallons per day.
Current water capacity predictions indicate that supply should be at 80 to 87 percent by October 1, when weather forecasts – thankfully – call for more rain.
"Right now our supply is in good shape. We've been much lower before," says Rachel Ickert, the district's Water Resources Engineering director.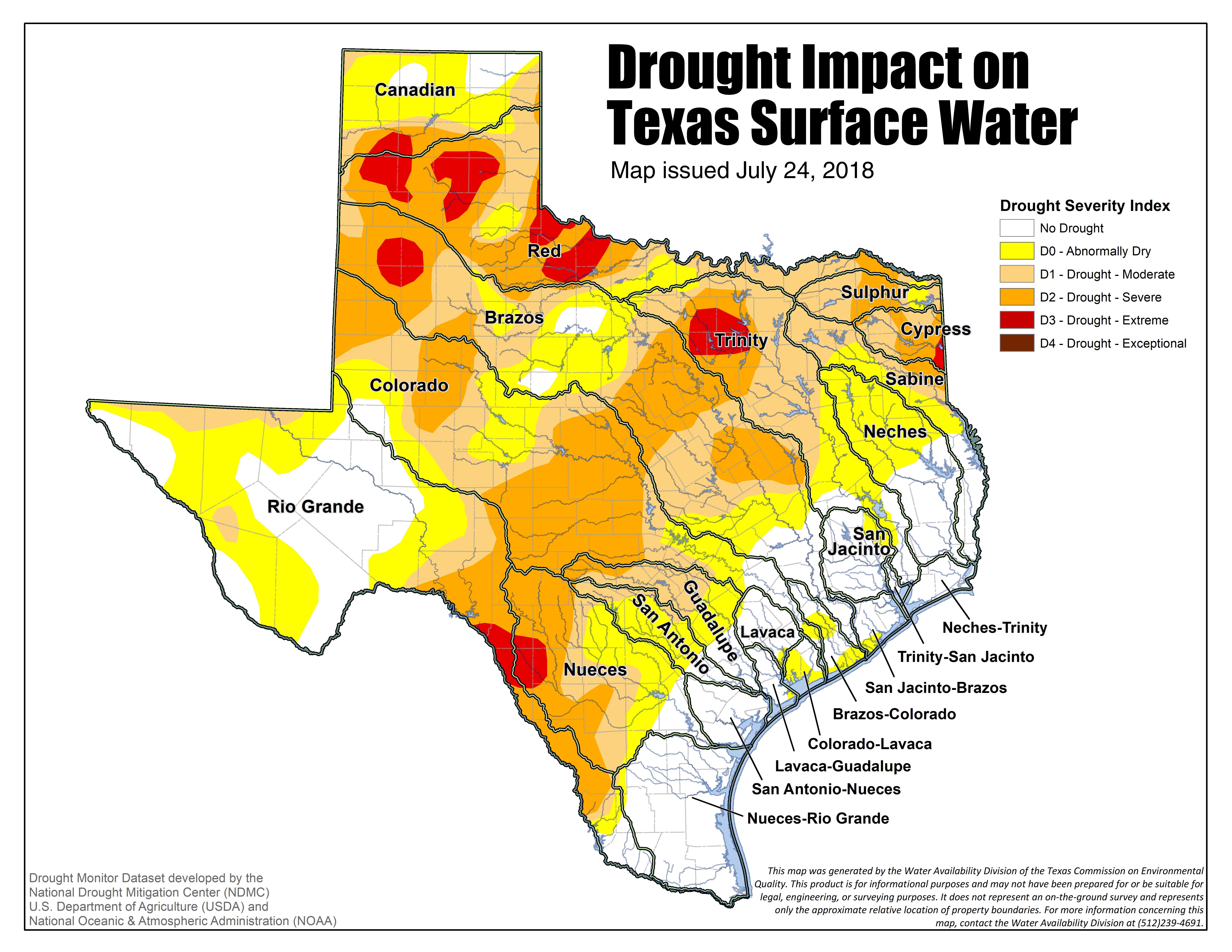 Though two of the four TRWD reservoirs have hit the extreme drought conditions, east Texas lakes remain in the moderate levels, keeping TRWD's water supply up during these extreme conditions. (Map source: TCEQ) 
But it's only natural to worry, don't you think?
Temperatures hit 100 degrees for 10 days in a row starting July 14 to July 23, with record highs set four days in a row – July 19 and 20 when it was 108 and July 21 and 22 when it was 109 degrees, according to the National Weather Service.
As a result it comes as no surprise, but still somewhat shocking, that this was the second driest Spring on record at Dallas-Fort Worth Airport. In April, May and June, 3.91 inches of rain fell in the area.
You have go back to 1934 to find a drier Spring; then only 3.21 inches of rainfall was reported.
The district was ready when it's four primary customers – the cities of Fort Worth, Arlington and Mansfield and the Trinity River Authority – reported using 536 million gallons on July 19, up from typical usage of 400 million gallons per day.
The district's 50-year water supply plan takes these conditions into account. You have to be ready when you provide water to more than 2.3 million people in North Texas.
"When it's this dry we expect it to be up in the 500s," Ickert says.
What actually may be surprising is that usage isn't higher, especially since the population in the district's service area has jumped 12 to 14 percent since 2011.
Conservation efforts such as twice-a-week lawn watering adopted by Fort Worth and other communities are credited with keeping usage close to demands the district faced in 2011, a year the district faced similar hot, dry conditions.
All of this doesn't mean you can just turn on the sprinkler and forget about it. If the water levels in the lakes and reservoirs reaches 75 percent of capacity, more stringent usage rules can be triggered.
"Water is a resource that we encourage people to use wisely," Ickert said. "Residents in our service area are encouraged to go to www.waterisawesome.com and sign up for weekly watering advice."