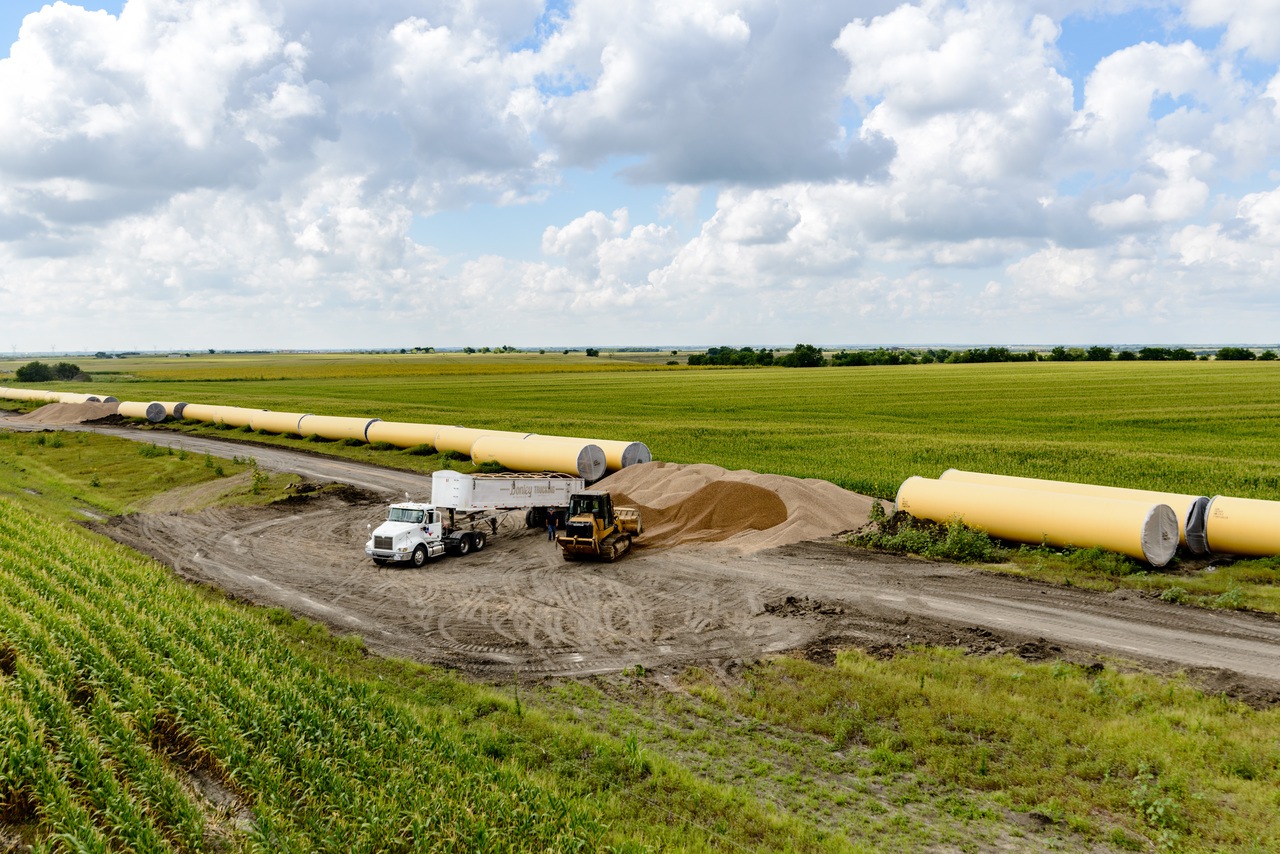 The pipes are big enough to drive a growling Dodge Ram pickup through.
There are trenches holding the pipes deep enough to accommodate a narrow, two-story building.
And one of the pipeline's gigantic valves weighs in at more than 100 tons and is 40 feet tall.
Building the 150-mile-long, $2.3 billion Integrated Pipeline Project (IPL) – designed to bring hundreds of millions of gallons of water a day from three East Texas reservoirs to an increasingly thirsty North Central Texas – is what one public official called "a massive undertaking."
But about four years after construction began – and 12 years after the humongous project was first proposed – the first 50 miles of pipeline is set to go operational before the first of next year.
In early October, tests were being conducted at a pump station between Waxahachie and Ennis with the goal of pumping up to 40 million gallons per day of additional water from Richland-Chambers Reservoir.
Most of the new pipeline, which is being used in addition to the existing pipeline system, is in Ellis County.
"It's a big milestone. This is truly a regional project; it is a big step in that direction," says Ed Weaver, Integrated Pipeline Program manager for the Tarrant Regional Water District (TRWD).
Turning the spigot on comes just in time.
Since TRWD's pipeline facilities from the Richland-Chambers and Cedar Creek reservoirs were designed to meet 100 percent of demand by 2018 – the district was faced with the risk of falling short if more capacity was not added, said Wayne Owen, planning director for TRWD.
"Low and behold we've done it," Owen says of hitting its goal.
The IPL is being built in partnership with the City of Dallas. When it is completed in its entirety, possibly in 2035, the IPL will connect three water supply reservoirs – Lake Palestine, Cedar Creek and Richland-Chambers – to Benbrook Lake. (IPL Map)
TRWD is responsible for building and operating the pipeline and will get 200 million gallons of water per day from the IPL, while Dallas will take 150 million gallons per day. With the agencies already providing water to more than 4 million people, the IPL will make it easier to serve growth.
But getting to this point hasn't been easy – or cheap.
Building what officials say is one the largest projects of its kind in the United States took a lot of planning – and thinking on a really big scale.
It was Dallas that first proposed building the IPL with TRWD in 2006. After exhaustive engineering and feasibility studies were conducted, contracts committing the two agencies to the project finally were signed in 2010.
One of the first things to do was buy the land for the pipeline. Despite some court challenges, by August 2018 all but 31 of the 517 parcels needed had been acquired.
Construction began in 2014, with immense trenches being dug to hold the pipeline, which varies in size from 84 inches to 108 inches in diameter.
Three lake pump stations and three booster pump stations also are being built to move the 350 million gallons of water per day through the line, and the equipment isn't like anything you'll see at an Ace Hardware.
Southwest of Bardwell Lake near Ennis, for example, the world's largest gate valve was installed. The 100-ton valve, which is buried underground, is four stories tall. Due to its size, getting the 108-inch valve required taking it apart and putting it back together again. Watch the installation.
And while all the talk is about getting water from the three existing reservoirs, what you probably didn't know is that TRWD actually built a new one, albeit smaller, as part of the IPL.
What is called a "balancing reservoir" capable of holding 450 million gallons of water was created at a high point near the City of Midlothian. The new reservoir has enough storage to allow cost-saving operations, such as pumping into the new reservoir at night and storing water there to reduce the costs of pumping it uphill through the pipeline during the day.
Saving on the utility bill is important. It is estimated that over the life of the project, the agencies will be able to save $1 billion in energy costs by sharing the system and pumping the water through bigger pipes and during times when electrical rates are lower.
"We will optimize the operations to take advantage of the energy market. We will be able to increase pumping rates when prices are lower," says Rachel Ickert, water resources engineering director for TRWD.
While happy to get the first phase finished, Ickert says the real "game changer" will happen in 2020 when the Joint Cedar Creek No. 1 Lake Station is turned on, adding 220 million gallons per day of capacity to TRWD's system.
A new master plan will determine exactly when the entire system will be completed. While the population in North Central Texas has grown 12 to 14 percent over the past seven years, the peak demand for water has remained at 2011 levels, Ickert and Owen say.
The agencies don't want to finance, construct, maintain and operate parts of the pipeline until they are needed. Through the end of August 2018, TRWD and Dallas had spent about $937 million on the IPL.
"Our demands are growing but at a diminished rate because of water conservation," Owen said.
Make no mistake, though, he's tickled to see water flowing through the first phase of the IPL.
"It is kind of a major deal. These projects you don't build overnight and they are a huge undertaking," he says. "It's a lot to get done in 12 years."