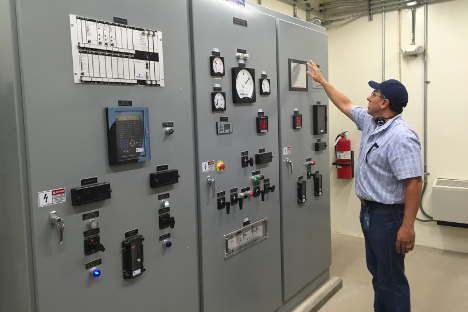 (previously posted on Sept 17, 2015)
During a typical year, 85 percent of the raw water Tarrant Regional Water District (TRWD) provides to its primary wholesale customers comes from two East Texas reservoirs; Cedar Creek and Richland-Chambers. The district delivers that water to its customer cities through a vast system of pipelines, to water treatment plants and terminal storage lakes in Tarrant County where the cities then treat the water and supply residents and businesses.
Pumping millions of gallons a day through large diameter pipelines can use a lot of energy. Short sections of the pipelines flow downhill, and carry that embedded energy with it. A prime example of that takes place in southeast Tarrant County as TRWD discharges pipeline water into Village Creek. That water then flows into nearby Lake Arlington to meet water demands in one of North Texas' largest cities.
"There is a significant drop in elevation as the water makes its way downhill to Village Creek," said Steve Metzler, Water Delivery Infrastructure Manager. "It's the equivalent of having water flow over a 140-foot dam."
Metzler said TRWD's engineering staff studied the discharge process at Village Creek and determined there was a way to harness some of the excess energy discharging into the creek bed and put it back on the state's power grid for future use.
"As long as we are pumping water back to Tarrant County to meet demands, why not take advantage of that process and be good stewards of the environment at the same time?" said Metzler, who has overseen construction of the project.
The recently completed TRWD hydro-electric facility funnels incoming water through a series of underground pipes and a hydroelectric turbine that generates electricity, and can then be put back on the power grid via a nearby Oncor power station.
Though the facility doesn't typically operate 24 hours per day, Laura Blaylock, Manager of Energy and Water Resources, said the district at a minimum operates the turbine during peak periods of energy use.
"We definitely try to run the hydro-electric facility during the peak period from 3 p.m. to 6 p.m. every day," she said. "That is when the electric grid has the highest demands, and we want to help lessen the burden on the grid as well as recover energy. Every bit counts, especially on those hot summer days when (The Electric Reliability Council of Texas) is asking everyone to reduce consumption."
Blaylock added that the power TRWD typically puts back on the grid is enough to power 200 homes per day in the Arlington area. The energy that the facility generates helps TRWD comply with Texas' current Senate Bill 898, which requires state institutions to reduce electrical consumption by at least five percent each year.
The hydro-electric facility is progressive in other ways as well. It has an energy-efficient cooling system and LED lights throughout.
"This technology is very innovative and very advanced," said Blaylock. "It's an example of the progressive measures TRWD is implementing to reduce our energy consumption and impact on the environment."