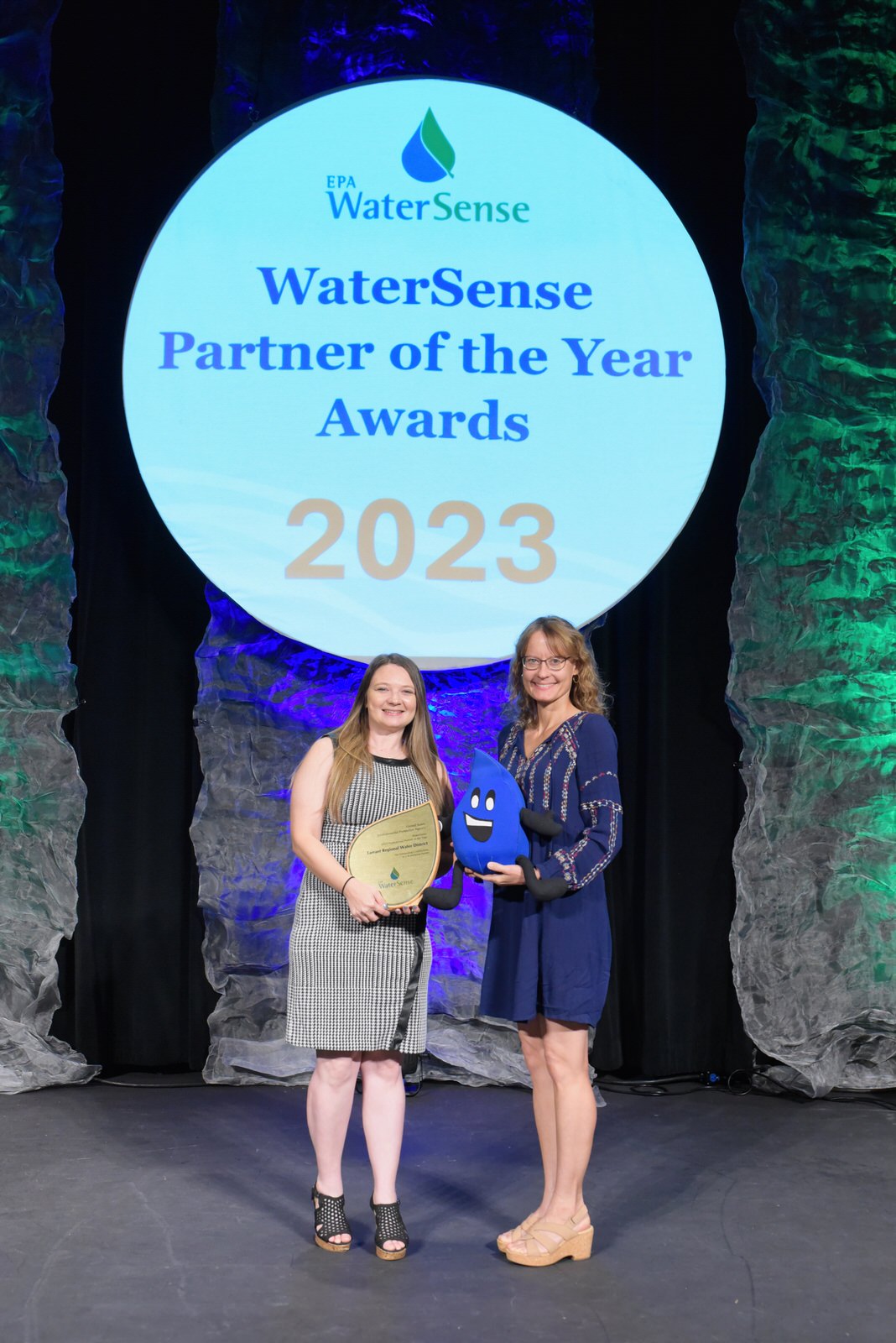 This year the Tarrant Regional Water District's campaign to conserve water came to a head – a new water-saving showerhead, to be precise.
A showerhead exchange program in which TRWD exchanged 172 old showerheads for new, more efficient ones that use less water helped it win a national award from the U.S. Environmental Protection Agency.
TRWD was recently honored to receive a 2023 WaterSense Partner of the Year Award from the EPA for its robust portfolio of programs aimed at helping consumers learn ways they can save water every day.
It is the second year in a row that TRWD has been feted by the EPA for its conservation programs. Last year, the District won an excellence award for its educational and outreach efforts.
"We're really excited to be a Partner of the Year. We ramped up our water conservation promotion," said Dustan Compton, TRWD's conservation manager. "We've been working toward this goal for a few years now."
The Tarrant Regional Water District provides water to 70 North Central Texas cities including Fort Worth, Arlington and Mansfield. Another major customer is the Trinity River Authority.
"As a wholesale water provider, we want to recognize the support of our customer cities because their efforts are so important to making community connections and advancing water conservation," he added.
WaterSense, a volunteer partnership program sponsored by the EPA, seeks to protect the future of water by offering consumers and businesses simple ways to use less water with water-efficient products and services.
By using WaterSense-labeled products, consumers have saved more than 7.5 trillion gallons of water, 880 billion kilowatt-hours of energy and $171 billion in water and energy bills since 2006, the EPA said.
More than 2,100 manufactures, builders, retailers, utilities, governments, and nonprofit organizations partner with WaterSense to promote more efficient water usage.
"With extreme weather affecting water supplies and quality, saving this precious resource is more important than ever," said Veronica Blette, chief of the EPA's WaterSense branch.
Locally, conservation plays a major role in TRWD's water planning strategy. The District estimates water conservation efforts saved 24.7 billion gallons of water in 2022 – 17.9 billion gallons in indoor usage and 6.9 billion gallons outdoors. All of this while the service area population grew to 2.3 million.
The nearly 25 billion gallons of water saved is about 41 percent of the capacity of Eagle Mountain Lake, one of the district's four reservoirs.
Throughout 2022, TRWD pushed the comprehensive WaterSense campaign including Love Your Bathroom, Fix a Leak Week, Sprinkler Spruce-Up and Smart Irrigation Month.
To promote the WaterSense Shower Better campaign, TRWD created the showerhead exchange program for three of its customer cities – Arlington, Bedford and Burleson.
Residents traded in 172 old showerheads for new ones that use 1.75 gallons a minute instead of the 2.5 gallons of water a minute many use. Residents could get two showerheads, which had a value of $20 each.
"Doing the exchange guarantees that the showerhead will get installed and instantly start saving water," Compton said.
TRWD staff knows the showerheads work because they personally tested different models before selecting the 1.75 gallon model, he said.
"We made sure there was enough water to get the soap out of your hair," Compton said.
And along with a 30 percent savings in water usage comes a 30 percent savings in energy use since people are using less heated water.
"I'm very surprised people participate in it. I got excited when I went to pick up the old showerheads and there's a bin full," Compton said.  "It's a fun program."
"We have participated in the WaterSense program since it was created and are grateful for the essential resources and opportunities it provides to help meet our goals,' he said.