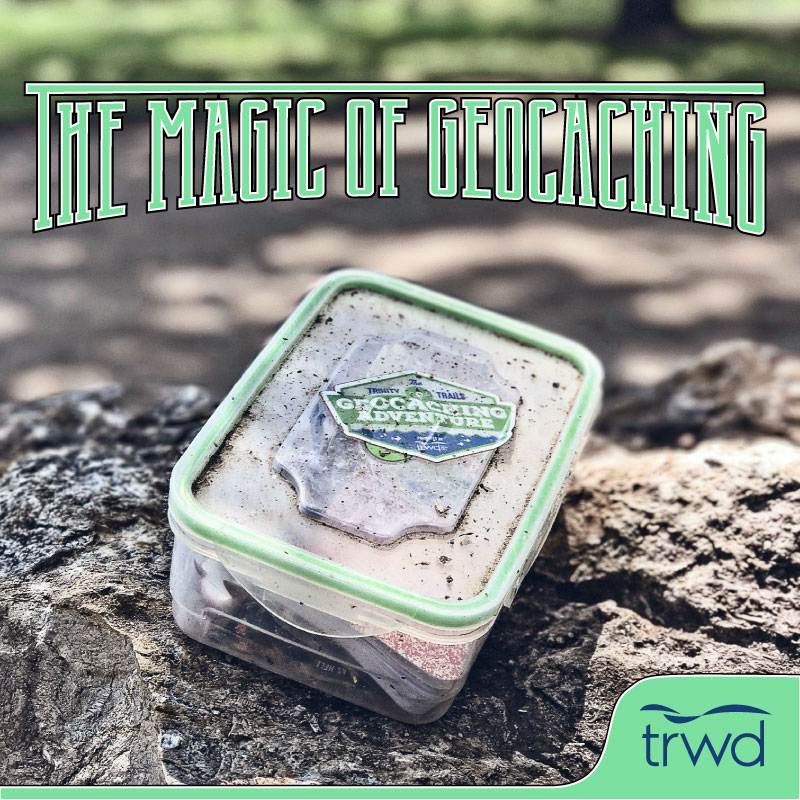 As you trek along the Trinity Trails you might stumble across some Fort Worth favorites, such as the Airfield Falls Trailhead & Conservation Park, Clearfork Food Park, and Coyote Drive-In. While these are prime destinations for our trail users, some adventurers prefer to seek out different kinds of hidden gems, which are tucked away in smaller, not-so-obvious places.
In fact, you might find one of these gems up in a tree, or wedged between rocks, or even within striking distance of a historic Fort Worth landmark. These little gems are called geocaches and there are 30 of them located all throughout the Trinity Trails as part of the TRWD Geocaching Adventure. The only things you'll need to get started are active clothes, a gps device, and a penchant for exploration.
What is a geocache you ask?
A geocache is a small, waterproof container that is typically stored in a remote part of nature trail. There are literally thousands of these containers all over the world's parks and they contain small trinkets left behind by other people. These trinkets can range from miniature toys, to travel badges, to a simple log book where you record your name and the date you found it. In essence, geocaches serve as a community chest for locals and distant travelers to swap items with each other and share a little piece of their journey. You simply never know what kinds of surprises you'll find!
TRWD offers you a chance to get in on the action too!
The first step in your adventure is to go to TRWDGeocaching.com to find the official TRWD Geocaching Challenge coordinates and Passport. Then make your free account with Geocaching.com or through their app to track all the geocaching challenges in your area. Now, you're ready to hit the trails and hunt for at least 25 geocaches along the river. Upon completion, you'll receive the official TRWD Geocaching Adventure Geocoin for your hard work and importantly, you'll have enjoyed a wealth of exercise, some cool trinkets and a newfound admiration for all the natural beauty the Trinity Trails has to offer.