Excerpts provided by Water Research Foundation, Business Wire and Fort Worth Business
The Water Research Foundation (WRF) announced that the Tarrant Regional Water District (TRWD) was awarded the 2017 Outstanding Subscriber Award for Applied Research at the American Water Works Association's Annual Conference and Exposition.
The WRF's Outstanding Subscriber Award honors utilities that have made notable improvements to their treatment, delivery, and/or management processes through the successful application of WRF research, aiming to protect both the environment and public health.
"TRWD has always been an organization looking for a better path. Being recognized for the fact that we take great advantage of working with WRF on our system and operations shows that we're really supporting our customers by being progressive in what we do," said David Marshall, director of Engineering and Operations Support at TRWD.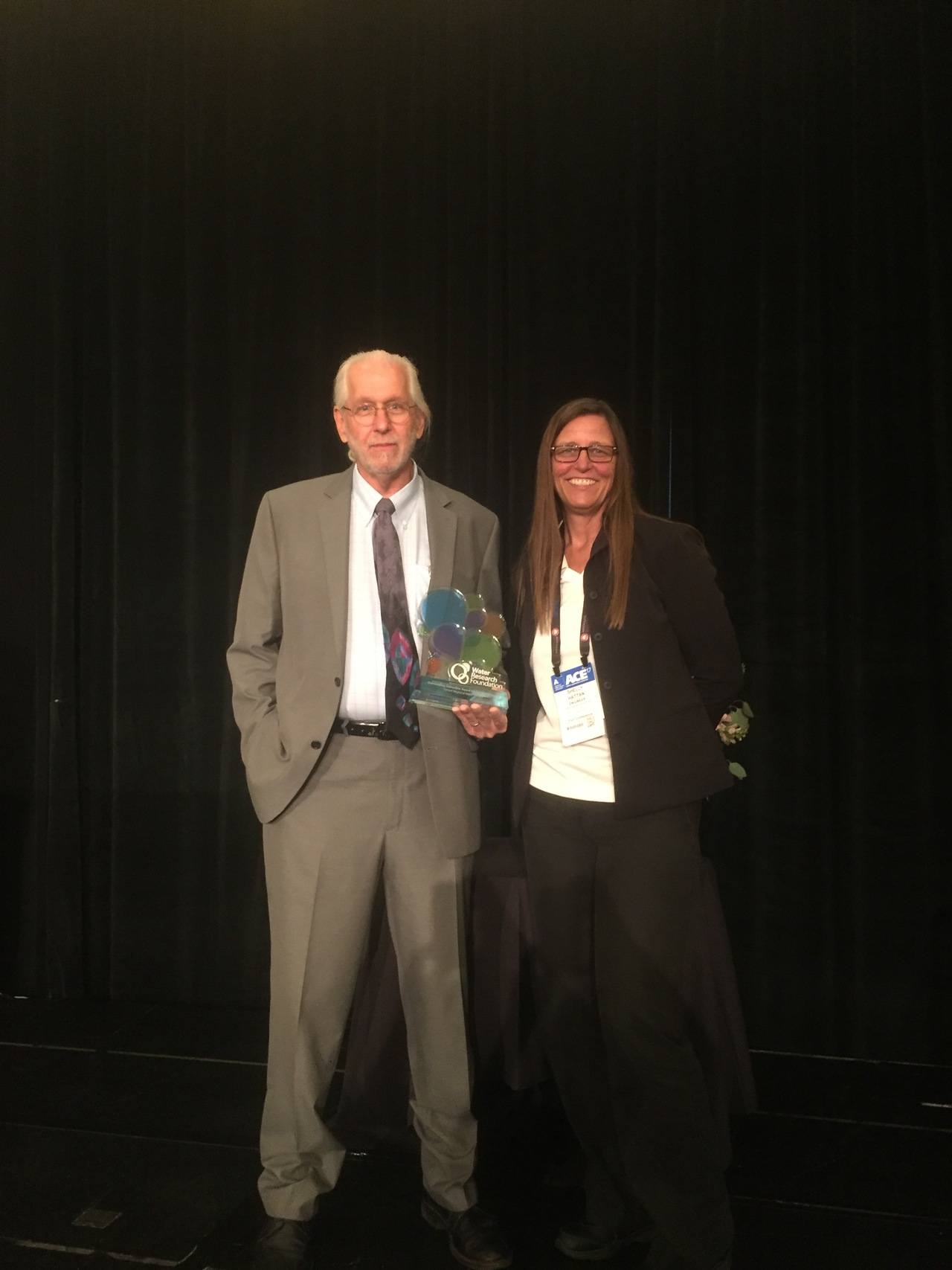 Pictured above: TRWD Engineering and Operations Support Director Dave Marshall and Shelly Hatten, IPL Engineer 5 accepted the 2017 Outstanding Subscriber Award for Applied Research at the American Water Works Association's Annual Conference and Exposition.
In the last few years, TRWD has invested $3 million in research focused on improved design of large-diameter buried steel pipelines, prompted by their desire to improve the reliability of a new pipeline they are building. The district has already saved about $20 million compared with the estimated cost of construction, and much of these savings can be traced to the large-diameter pipe design research they have championed.
(Last summer, TRWD received the Institute for Sustainable Infrastructure's Envision Platinum Award on the IPL project.)
The district was honored along with the city of Calgary, which received the same award, and Metropolitan Water District of Southern California's Stuart Krasner, who received the 2017 Dr. Pankaj Parekh Research Innovation Award.
"A large part of the Water Research Foundation's success depends on partnerships with remarkable leaders in the water community, like those we honored today," said Rob Renner, Chief Executive Officer of the Water Research Foundation, in a news release. "Mr. Krasner and the professionals at the city of Calgary and TRWD have contributed so much to WRF's research efforts over many years. We are proud of their work and grateful for their achievements."
Award nominations are accepted from WRF's Board of Directors, staff, subscribers, researchers, and other water community partners. The Board of Directors' Awards Committee selects each year's winners. For additional information about WRF's annual awards and past award winners, please visit www.WaterRF.org/awards.
Water Research Foundation (WRF) is a non-profit research cooperative that advances the science of water to protect public health and the environment. Governed by utilities, WRF delivers scientifically sound research solutions and knowledge to serve our subscribers and stakeholders in all areas of drinking water, wastewater, stormwater, and reuse. WRF has funded and managed more than 1,500 research studies from asset management to treatment, utility finance to resource management, conveyance systems to water quality.